News
07/05/2006 4:09 PM
Article By:
5 July 2006
New Pair of Spikes for Tim Lincecum
HARWICH, Mass. – Tim Lincecum (Washington), former phenomenal closer for the Harwich Mariners, is getting a new pair of cleats after finishing his 2006 season at the University of Washington.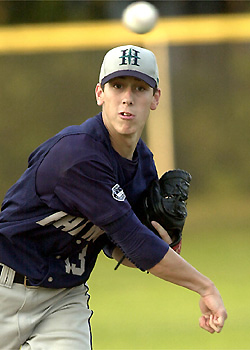 Tim Lincecum
SportsPix / 2005
This is no ordinary pair of baseball cleats, though, because this pair is only given to the single best player in amateur baseball.

USA Baseball announced on June 23 that Lincecum would be given the Golden Spikes Award – the greatest and most prestigious award any collegiate amateur baseball player can ever receive, college baseball's equivalent of the Heisman Trophy.

Boasting an enormous resume of awards and achievements at the college level, Lincecum was chosen over four other finalists for the award. He also received Pac-10 Pitcher of the Year honors after being named National Player of the Week by Collegiate Baseball an amazing six times during the 2006 season. This marks the second time Lincecum was named Pitcher of the Year, earning that honor in his freshman season of 2004. He also received Pac-10 Freshman of the Year accolades in 2004, becoming the first Husky to win both Pitcher and Player of the Year honors.

In only three years at the University of Washington, Lincecum set several career records: 30 wins, 51 starts, 342 innings pitched, and 491 strikeouts (against only 216 walks). The 2006 season brought a 12-4 record, 1.94 ERA, and a whopping 199 strikeouts in 125 1/3 innings (for a ratio of 1.6 strikeouts per innings pitched). His 12 wins and 199 strikeouts are now the single-season records for the Washington Huskies. The incredible season marked the end of Lincecum's college career, as San Francisco chose Lincecum with the 10th overall pick of this year's Major League Baseball Draft.

In his 2005 season with the Harwich Mariners, Lincecum became a reliable closer. He had seven saves in 39 1/3 IP, while appearing in 19 games. He started three games, including one complete-game effort, and had a total of 68 strikeouts and only 11 walks. Holding opponents to just a .104 batting average, Lincecum's 0.69 ERA earned him a place on the All-Star Team and a place in the record books with the ninth-best ERA of the Cape League's modern era. He was later named to the All-League Team for 2005, and received the Mariners' Al Graeber Pitcher of the Year Award.

The Cape League proved to be vital to Lincecum's success in his junior year for the Huskies. When pro scouts were looking at him during his freshman and sophomore seasons, they had their doubts regarding his smaller stature and his reliance on two pitches – a mid-90s fastball and an impressive curve. When you're facing Major League hitters, two pitches just aren't enough.

While playing for the Mariners, Lincecum worked hard to develop and perfect two more pitches, a slider and a changeup.

"When you're in the closer's role, you can get away with two pitches that are quality. With him wanting to be in the starter's role when he went back to school, he started working on his pitches and it really helped him out a lot this past spring," said Harwich field manager Steve Englert.

With four weapons in his arsenal, Lincecum was able to dominate as a closer in the Cape League and then bring that dominance back to the University of Washington, where his phenomenal numbers as a starter in 2006 turned him into yet another CCBL alum drafted into the majors.

"He was a pretty easy-going kid off the field," Englert said. "He was – what we say – a left-handed mentality that throws righty. Those lefties can be a little goofy at times," Englert added as continued to praise Lincecum, noting his peculiar delivery style that has always been a little unorthodox. Having a great deal of flexibility, Lincecum turns his back to the plate, tying his entire body into a tight knot before unraveling himself in a fluid motion towards the plate as he unleashes a blazing fastball or a knee-buckling off-speed pitch. "With his size and the motion that he had, he was a pleasure to watch."

And a pleasure to manage for Englert, as having a competitive and talented pitcher like Lincecum always ready and waiting in the bullpen will make any manager's job easier.

There's no doubt Lincecum will continue to make his managers happy as he dons his new Golden Spikes and continues on that major league dream so few players ever come to realize.
By Adam McGillen, CCBL Intern [email protected]