News
07/07/2006 4:11 PM
Article By:
7 July 2006
A Cape League Tradition Like No Other
The Annual July Fourth Game Between Chatham and Orleans
Brings Out The Crowd, Patriotism, And The Best In The A's And Cardinals

CHATHAM – There's a long row of fans lounging in lawn chairs behind the backstop, American flags are draped along the warning track, and a mouth-watering aroma of hot dogs and hamburgers cooking on the grill fills the air.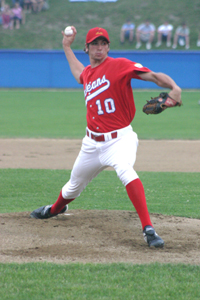 Orleans pitcher Clayton Shunick
photo by Eric Adler /2006
There are even more spectators in the stands, an idle fire truck in the background, and a set of tall towers casting a white, bright light on the playing surface below.

Chatham's Veterans Field, on this warm yet breezy July 4th evening is the personification of patriotism, a virtual Norman Rockwell painting of the national pastime.

Such a vivid and packed canvas means only one thing: the Chatham A's and Orleans Cardinals – old rivals fighting for supremacy in the East Division – are renewing their annual Independence Day battle.

The two teams – separated by a mere 10 miles – traditionally play on America's birthday. And this time-honored contest has grown in prominence given the recent success of the neighboring franchises, which squared off in last year's East Division playoffs, and have combined for eight of the last 10 East Division championships: Chatham in '96, '98, '99, '00 and '01, and Orleans in '02, '03 and '05.

There are a few other local rivalries taking place on this firework-sky night, but none draw anywhere near the 4,000-fan crowd, or reach the high volume of those cheering voices, as that of the A's-Cardinals game.

So popular, in fact, is this celebrated match-up that there are many, like Chatham A's broadcaster Guy Benson, who consider it the best rivalry the league has to offer.

"This is Cape Cod's version of Yankees-Red Sox," said Benson, now in his fourth year calling A's games over the internet airwaves. "Both teams have big fan bases that always travel to the opposing team's ball park. Both team's fans care deeply and don't particularly like each other. And both teams have a history of success. Those factors combined make it the best rivalry on the Cape."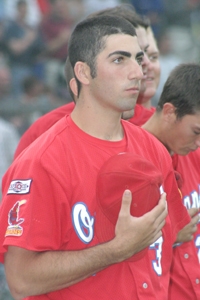 Orleans third basemen, Josh Satin
photo by Eric Adler /2006
It's a bold statement, no doubt, but it's also one's that's nearly impossible to argue with after Chatham starter Robert Woodard and Orleans ace Clayton Shunick ooh and aah the audience with a tour-de-force pitching duel that would have even Curt Schilling and Randy Johnson marveling at such mastery.

Woodward, making his first appearance on the mound since starting game two of the College World Series, looks as sharp as he did all spring for the University of North Carolina, striking out seven and retiring the side in order over the first five innings.

Shunick, meanwhile, is equally unhittable, sitting down the A's in 1-2-3 fashion over the first five frames with an incendiary fastball and deceptive change-up to boot.

The reign of scoreless ball finally comes to an end in the sixth when the Cardinals mount a rally, beginning with Mark Hallberg's bunt single that breaks up Woodard's no-no.
Number nine hitter Kyle Scogin later takes base after being hit by a pitch, and Cody Kaiser lifts a single to shallow right, loading the bases for Ryan Sontag, who delivers a clutch single to center that gives Orleans a 1-0 lead. Two batters later, the Cardinals double the margin when Woodward issues a bases loaded walk.

Chatham launches a counter attack in the home half of the inning on Aaron Reza's lead off single and Allan Dystkra ensuing double. But Shunick gets the next two batters to hit into a fielder's choice – the former of which is a 5-2 put-out that retires Reza at the plate. Shunick then gloves Reid Fronk's hit and flips to first to get out of the jam.

There's hope again for the A's in the ninth when Chris Carrara lines a one-out single to center and Fronk follows with an infield hit off reliever Brock Baber. But Baber strikes out Daniel Espinosa and gets league RBI leader Matt Rizzotti to ground out to preserve the win, which marks the Cardinals fifth straight over the A's and ninth in their last 12 meetings dating back to last season.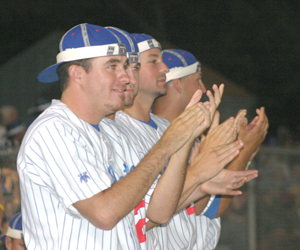 The Chatham A's don rally caps in the ninth, but couldn't
overcome a 2-0 deficit.
photo by Eric Adler /2006
More importantly, it gives the division-leading Red Birds a hefty nine point lead over third-place Chatham in the always closely contested 44-game pennant race. And it has the team feeling pretty good about themselves, too.

"Anytime you can come down to Chatham and beat them on their field, especially with Robert Woodard sitting on a no-hitter for five innings, it's a good win," Orleans Field Manager Kelly Nicholson said. "Orleans and Chatham is a great, friendly rivalry. We like playing them and they like playing us. It's always a big game, and it's what Cape League is all about."

There's no question that Shunick (3-1), who scattered just three hits, stuck out five, and did not yield a walk in eight-and-a-third innings, is the hero.

"I felt I really mixed up my change-up well. I was throwing it behind in the count, ahead in the count, and snuck in a few fastballs in between to keep them off-balance," said Shunick, as gracious and well-mannered off the field as he is ruthless on it. Of course, that's exactly the idea.

"I show no mercy when I'm on the mound," the Georgia State sophomore said. "It doesn't matter if I'm throwing to Frank Thomas or Joe Shmo. I'm going to go out there and pitch my game the best I can."

As it turns out, Shunick's best was the best any Cardinal has thrown all year. Said Nicholson, "Clayton did an outstanding job. He was efficient (he threw 70 pitches through seven innings), he kept the ball down, and that was as good a pitching performance we've had from any our starters this year."

While the loss is a set back for Chatham, it's by no means a crippling one. Said Woodard, who struck out eight over five and two-thirds, "We have a lot of fight on this team and I think we'll win a lot of games."

In fact, playing in this polarizing atmosphere is of great benefit, no matter the outcome, Chatham Field Manager John Schiffner said.

"After the game, I told the team, wasn't that a great crowd?" said Schiffner. "Now, that's our goal: to make the playoffs so that we can play in front of more crowds like that."