News
08/29/2006 10:36 AM
Article By:
29 August 2006
THIS WEEK IN THE CAPE LEAGUE
2006
THURMAN MUNSON
BATTING CHAMPION AWARD
Matt Mangini
Batting Champion
With each passing summer on Cape Cod, a new group of talented young men is chosen to participate in the best collegiate baseball league in the country. Most come to the Cape with high expectations, but only a select few leave knowing that they've accomplished their goals. Matt Mangini can rest assured that he has made his mark in Cape League history.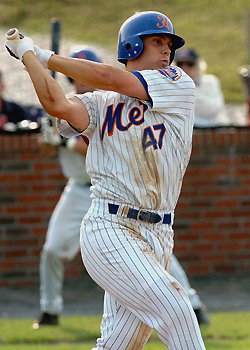 Matt Mangini, Hyannis Mets
SportsPix 2006
Mangini, a member of the 2006 Hyannis Mets, finished the regular season with a .310 batting average, which garnered him the Thurman Munson Batting Title. Each season the award is presented to the Cape Leaguer who has attained the highest batting average at the end of regular season play. Mangini beat out Orleans catcher Matt Wieters (Georgia Tech) and Falmouth outfielder Brad Chalk (Clemson), both of whom were also category leaders in home runs. Wieters and Chalk finished regular season play with impressive averages of .307 and .305, respectively.

However, it was Mangini who prevailed, ending the season with a league-leading 48 hits, two home runs, and 16 RBIs in 155 at-bats. His hard hitting contributed to Hyannis, helping his team achieve the second highest team batting average in the league at .252. His hard work earned him not only this award, but also a spot as starting third baseman for the West in the 2006 CCBL All-Star Game.

NC State will be lacking a huge part of their program this spring, as Mangini will continue his college career at Oklahoma State University. In his sophomore season with the Wolfpack, he earned two consecutive national player of the week honors and ended regular season play with a .343 batting average, 60 RBIs and seven home runs in 239 at-bats.
By Courtney Reilly, CCBL Intern [email protected]

Interns 2006 : Chad Burkart, Johnna DeChristoforo, Jonathan French, Michael Kydd, Lauren Malone
Adam McGillen, Nicholas Mucci, Courtney Reilly, Daniel Scalia, Shannon Taylor, Kevin Wolfe