News
08/30/2006 10:38 AM
Article By:
30 August 2006
THIS WEEK IN THE CAPE LEAGUE
2006
MIKE CURRAN
MANAGER OF THE YEAR AWARD
Mike Roberts
Manager of the Years
Coach Mike Roberts of Cotuit may not look to be an imposing figure, but he is. Standing at about five feet, six inches, Roberts is a fiery manager and, despite his size, he can intimidate just about anyone. Demanding respect from peers and players alike, Roberts has become quite an influential member of the prestigious Cape Cod Baseball League.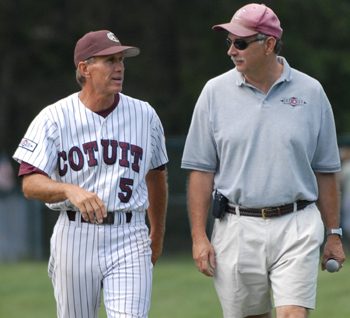 Mike Roberts with GM Bruce Murphy
swilson / ccbl
To add to his already stout resume, Roberts has been named this season's Mike Curran Award winner recognizing the Manager of the Year. This honor is tough to argue, after Roberts led his Kettleers to the best record in the West and the league's best record throughout the majority of the season.

Last year's winner, Kelly Nicholson of Orleans, won a championship, but unfortunately Roberts was unable to do the same. The Kettleers looked to be the favorite this season, but were upset by rival Wareham in the Western Division Playoffs. Leading the league in both pitching and hitting for essentially the whole season, the Kettleers and Roberts were ready for a playoff run. Although many feel as though the Kettleers deserved the title, the boys did not perform up to their potential, leaving Coach Roberts with no answers.

"The season didn't end as we expected it to," said the third-year manager, "but I am proud of the boys this season. They played hard."

Kettleer fans were left disappointed after yet another tough end to the season. But these loyal patrons have grown to love Coach Roberts and his style of play. Constantly leaving fans on the edge of their seats with his aggressive decision making, Roberts has Cotuit arguably playing the most exciting ball in the league.

Coach Roberts instills great values in his players, teaching them not only keys to the game of baseball but also the game of life. Although seen as merely a fiery guy by some, Roberts is simply a competitor who can't stand losing. A cagy Southerner with an accent that still brings a smile to his local friends on the Cape, Roberts is always in good spirits before games. But like any true competitor and great coach, Roberts plays to win when Cotuit takes the field.
By Nicholas Mucci, CCBL Intern [email protected]


Interns 2006 : Chad Burkart, Johnna DeChristoforo, Jonathan French, Michael Kydd, Lauren Malone
Adam McGillen, Nicholas Mucci, Courtney Reilly, Daniel Scalia, Shannon Taylor, Kevin Wolfe