News
12/08/2006 10:54 AM
Article By:
for immediate release: 8 December, 2006
Cardinals GM Wins CCBL Christmas Tree
Hyannis -- One of the major highlights of the Hyannis Christmas Stroll December 1-2 was the Spectacle of Trees on display at the JFK Museum on Main Street.

Fifteen non-profit organizations, all members of he Cape Cod Charitable FUN Raisers, had their unique and creative trees on display. Each tree had a different theme and the Cape League's tree was named Home (Plate) for the Holidays.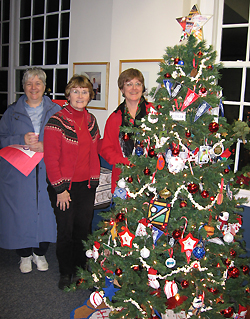 Home(plate) for the Holidays is the CCBL tree on display at the JFK Museum. During the Hyannis Christmas Stroll, Sue Horton, Diane Troy and Kim Wolfe admire the tree. Little did Horton know then she would win the tree!
photo CCBL/ JWS
Diane Troy of the Chatham A's created and decorated the tree with unique handpainted ornaments and a variety of miniature items, each with a baseball theme. Three-dimensional baseball cards dotted the tree, as well as Charlie Brown baseball shells. A former CCBL player named Claus became a significant "ornament" on the tree, as some wondered if that was really his name. Each team was represented on the tree with its logo on a keychain or handmade ornament, thanks again to the creativity of Troy.

The CCBL tree was one of the most popular trees in the museum. People on the stroll had an opportunity to purchase a "chance" called a Tree Buck for $10. They then put it in the box next to the tree they wanted to win. Bill Murphy, founder of Cape Cod Charitable FUN Raisers was the grand marshal and drew the lucky winning tickets from each box. Fifteen people went home with 15 beautiful Christmas trees, complete with presents under each tree.

Sue Horton, GM of the Orleans Cardinals, was the lucky winner of the CCBL tree. When she received the phone call at 8 p.m. Saturday night, she did not believe it. "Are your sure I won? Are you sure it was not rigged?" Horton chuckled in disbelief.

But, in fact, it is true and the Cape Cod Baseball Tree will be on display at the Vlacich and Mitchell office in Orleans for the coming week.