News
05/06/2007 12:56 PM
Article By:
for immediate release: 6 May, 2007
Former Cape Leaguer Tim Lincecum makes MLB debut
tonight on ESPN
CAPE COD, MA -- After watching Lincecum's first bullpen session on the Cape, Harwich GM John Reid, Field Manager Steve Englert and the rest of the Mariners hierarchy knew they had something special in Tim Lincecum, the 6-0, 160-pound right-hander from the University of Washington.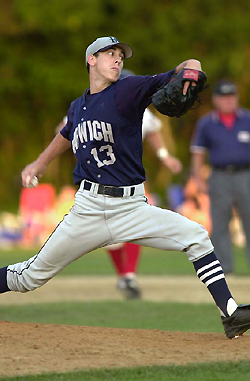 Tim Lincecum, Harwich Mariners
Photo by SportsPix / 2005
Lost in the shadows behind other flame-throwers such the North Carolina duo of Andrew Miller and Daniel Bard and two-way performer Brad Lincoln (Houston), Lincecum did NOT disappoint CCBL fans during the magical summer of 2005, leading the pitching-rich collegiate summer league with a microscopic 0.69 ERA (9th lowest in CCBL history), an eye-popping 68 strikeouts and a 2-2 record in just 39.1 innings.

At the beginning of the summer, Lincecum was a starter but was moved into the closer position after an injury and kept scouts around till the end of games. He was a major part of the record-setting Harwich pitching staff that finished the season with 445 strikeouts, a Cape League record.

With his mid 90's fastball and wide-breaking curveball, Lincecum's rise to the major leagues was meteoric, following his being drafted in the first round by the San Francisco Giants and tonight will make his MLB debut against the Philadelphia Phillies in a game televised nationally on ESPN.

Ironically, the 2006 Golden Spikes Award winner took the place of another former Cape Leaguer Russ Ortis (Yarmouth-Dennis '94), who was placed on the 15-day disabled list. During his five starts at the AAA Fresno, Lincecom went a perfect 4-0 with 46 K's and a 0.29 ERA in 31 innings, allowing just one run and 12 hits and going past the fifth inning in each start.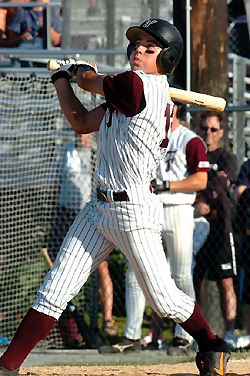 Jacoby Ellsbury, Falmouth Commodores
Photo by SportsPix / 2004
Another former CCBL alumnus who is also his team's top prospect, Jacoby Ellsbury was promoted to AAA Pawtucket last week and went 1-for-four with two runs scored in his debut, a 5-4 Pawsox win. The speedy outfielder, who led the Commodores to the CCBL finale vs. Y-D in 2004, went on a stealing spree last summer, swiping 41 bases while splitting time between the Single-A Wilmington Blue Rocks and Double-A Portland Sea Dogs.

Drawing comparisons to Johnny Damon with a little less power but a much better arm, Ellsbury combines defensive talent with offensive consistency, utilizing his speed in both aspects. He spent his collegiate years at Oregon State, where he boasted a career batting average of .365, and used his quick legs to close the gaps that surround his position in centerfield.

In his first 16 games with the Portland Sea Dogs this year, Ellsbury was hitting a lusty .449 and walked off with seven stolen bases, while only being nabbed once.

With such phenomenal stats, Ellsbury was called up to AAA Pawtucket to bat leadoff and play center field for the PawSox. Some day soon he may be snatching fly balls in that deep and dangerous centerfield corner at Fenway.
John Garner, Jr.
Director of Public Relations & Broadcasting
(508) 790-0394
[email protected]