News
08/11/2007 3:04 PM
Article By:
11 August 2007
THIS WEEK IN THE CAPE LEAGUE
Championship Week
Yarmouth-Dennis Walks Off with 4-3 Win
Over Chatham in First Game of East Division Playoffs
SOUTH YARMOUTH, Mass. -- After being rained out Friday, perfect weather set the stage for the first game of the Cape Cod Baseball League's 2007 East Division playoff series between the Chatham A's and Yarmouth-Dennis Red Sox Saturday afternoon at Red Wilson Field. A walk-off single in the ninth inning by Matt Long (Santa Clara) delivered a 4-3 victory for defending champion Y-D, which is attempting to capture its third Cape League crown in four years.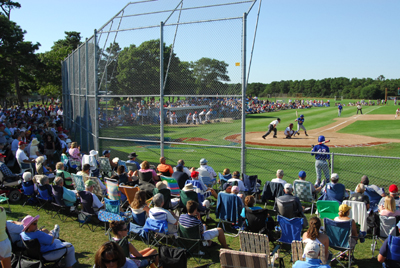 Picture perfect day for Y-D fans at Red Wilson Field
swilson 2007

The A's broke through against Red Sox ace Eddie Burns (Georgia Tech) in the first inning. After a single to right by Addison Johnson (Clemson). Jermaine Curtis (UCLA) drew a walk from the 6-foot, 8-inch right-hander. Johnson moved to third on a long foul popup down the first base line, then scored when a wild pitch eluded catcher Buster Posey (Florida State).

Right-hander Alex White (North Carolina) cruised through the first three innings for the A's, but ran into trouble in the fourth when he hit the first batter, Posey, then gave up a double to Jason Castro (Stanford) when right fielder Andrew Crisp (South Carolina) lost Castro's fly ball in the sun. With runners at second and third, Sean Ochinko (Louisiana State) took a called third strike before versatile Gordon Beckham (Georgia), the CCBL's home run king, delivered Posey from third with a well-placed sacrifice bunt.

Chatham had a chance to break the game open in the sixth, but Burns managed to limit the damage to one run. After retiring 10 in a row, Burns ran into trouble when Curtis tripled to left-center with one out. Allan Dykstra (Wake Forest) then drew a walk, followed by an RBI single through the infield by catcher Tim Federowicz (North Carolina). Jeremy Synan (North Carolina State) hit into a fielder's choice for the second out and Zach Putnam (Michigan) fly ball to left ended the inning.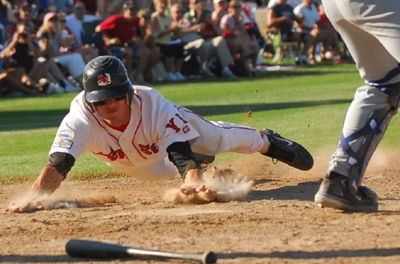 Grant Green safe at home
swilson 2007
Burns pitched seven innings, scattering five hits, striking out seven and walking only three. He was relieved by Colin Lynch (St. John's), who started the eighth and ran into immediate trouble, giving up back-to-back singles to Curtis and Dykstra. Federowicz's sacrifice bunt put the two runners in scoring position. Lynch struck out Synan, but walked Putnam to load the bases. He escaped unscathed by inducing Scott Lyons (Mount San Antonio) to ground out to Beckham at shortstop.

Colin Cowgill (Kentucky) led off the bottom of the eighth with a solo home run off White to tie the game at 2-2.

"I was just looking to get a good at-bat and get things started," said the center fielder whose diving catch in the ninth was one of the highlights of the game. "I was looking for a fastball and I got a hanging slider and was just able to connect."

A walk to Grant Green (Southern California), a single by Posey and an RBI single by Castro chased White from the game and put the Red Sox ahead, 3-2. White left after pitching 7-1/3 innings in which he struck out 10, walked three, hit one batter and gave up three runs on five hits.

Rob Wooten (North Carolina) came in to stop the bleeding and did just that by striking out Ochinko and Beckham to keep the the A's within one run.

Red Sox closer Nick Cassevechia (Baylor) couldn't slam the door in the top of the ninth as the A's tied the score when Johnson, who had crossed the plate on a wild pitch in the first inning, raced home on a passed ball. The one run was all the A's could manage, though, and the game remained deadlocked entering the home half of the ninth.

Right-hander Wooten returned to the mound for Chatham and was greeted by a single by Aaron Luna (Rice). Luna was thrown out at second on an unsuccessful sacrifice bunt attempt by Nick Romero (San Diego State), but Romero moved into scoring position when Wooten walked Cowgill. Matt Long (Santa Clara) then hit a high chopper that eluded both the first and second basemen as Romero raced home with the winning run.

Sox manager Scott Pickler was philosophical despite the dramatic victory. "We haven't accomplished anything yet," he said. "We haven't finished anything. I just told (the players) it just gets more fun the deeper you get."

In ceremonies before the game, Commissioner Paul Galop recognized Y-D as the 2007 East Division champion, then announced that Red Sox skipper Pickler had been selected as Manager of the Year and Cassevechia as the Russell Ford Relief Pitcher of the Year.

Game 2 will be played at Chatham's Veterans Park on Sunday starting at 7 p.m. An A's victory will bring the West Division series back to Red Wilson Field for Game 3 on Monday at 3 p.m. Should the Red Sox win, they will face the winner of the West Division series between Bourne and Falmouth for the championship.
By Kevin Wolfe, CCBL Intern [email protected]

Interns 2007: Erica Bailey, John Hannemann, Liz Hoffman,
Gabriella Remington, Kevin Wolfe