News
08/12/2007 3:06 PM
Article By:
12 August 2007
THIS WEEK IN THE CAPE LEAGUE
Championship Week
Gibson Pitches Falmouth past Bourne, 5-3,
And into Championship Series against Y-D
FALMOUTH, Mass. -- The Falmouth Commodores are the 2007 champions of the Cape Cod Baseball League's West Division. Behind a dominant performance by starter Kyle Gibson (Missouri), the Commodores defeated the Bourne Braves, 5-3, Sunday night at Arnie Allen Diamond to sweep the best-of-three series and earn the right to meet East winner Yarmouth-Dennis for the Cape League title.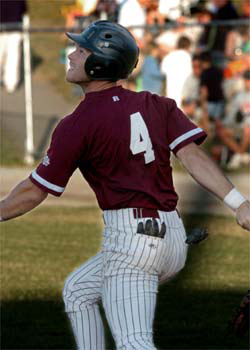 Phil Carey had two hits and two RBI.
SportsPix 2007
Manager Jeff Trundy and his Commodores are hoping it won't be a repeat of Falmouth's last trip to the finals in 2004 when they were swept by the Red Sox in two games. Falmouth's last Cape League championship came 27 years ago when the Commodores edged Chatham in a best-of-five series that went the distance.

Bourne, now without a Cape League title since Sagamore won it all in 1965, took a first-inning lead when Kevin Hoef (Iowa) drilled the second pitch of the game over the left-center field fence. Josh Workman (Wichita State) followed with a single before Falmouth starter and winner Kyle Gibson (Missouri) settled down to strike out the side.

Gibson finished with eight strikeouts in the seven innings he worked. He gave up two more hits and walked one.

Falmouth started its scoring in the third as Phil Carey (Winthrop) laced a one-out single to center to drive in Andrew Giobbi (Vanderbilt), who had doubled. After a double by Chris Hopkins (Oregon State) put runners at second and third with one out, newly crowned Cape League MVP and batting champion Conor Gillaspie (Wichita State) lined a two-run double to right-center, putting the Commodores ahead, 3-1.

Gillaspie, newly crowned Cape League MVP and batting champion, tried to stretch his two-bagger into a triple but was thrown out at third. The damage had been done, however, and Falmouth never looked back.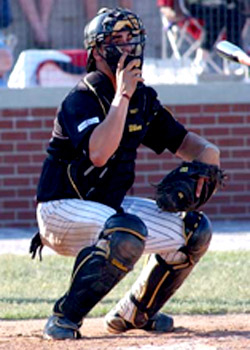 Andrew Giobbi collected three hits
SportsPix 2007
It was fitting that Gillaspie play a prominent role in the victory because it was his last appearance in a Commodore uniform this season. He had to fly home to Omaha on Monday to prepare for his return to classes at Wichita State on Wednesday. "It sucks, man," Gillaspie told a reporter after the game. "As much as I'd really like to stay, I don't have a choice. I gotta go to school."

The Commodores chased Bourne starter Rick Zagone (Missouri) in the fourth inning when David Adams (Virginia) led off with a single. Enter reliever TJ Hose (East Carolina), who promptly hit Aja Barto (Tulane). Hose struck out John Wallace (Oregon State), then walked Jeremy Farrell (Virginia) to load the bases with one out. Hose fanned Giobbi on a called third strike, but two runs scored when Carey hit an infield single that was booted by shortstop Addison Maruszak (South Florida). Carey was credited with a hit and an RBI as Adams scored. Barto raced home on the miscue and his unearned run made it 5-1. Hose finally struck out Hopkins to end the inning.

Bourne chipped away with single runs in the sixth and eighth innings, both driven in by Brian Pruitt (Stetson). Pruitt's ground ball to third brought in Workman, who had opened the sixth with a double to right field, and his single to left field in the eighth plated Hoef, who had singled.

Zagone lasted just three innings, giving up four runs. But three Bourne relievers -- Hose, Matt Gorgen (California-Berkeley) and Jeff Richard (Central Michigan) -- limited Falmouth to one run over five innings while striking out 13.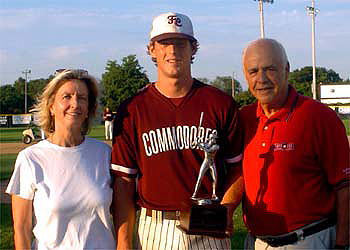 Conor Gillaspie, Batting Champion
with CCBL President Judy Scarafile and Umpire in Chief, Sol Yas
SportsPix 2007
Kyle Weiland (Notre Dame) ran into trouble in the eighth when Bourne closed the margin to 5-3, but Erik Bird (Nebraska) put out the fire, with help from right fielder Barto. With two outs and the bases loaded, Braves center fielder Ben Guez (William & Mary) hit Bird's first pitch to deep right field, but it was hauled in by Barto on the warning track.

Burnett, featuring a fastball that topped out at 96 mph and a devastating, knee-buckling slider, struck out the side in the ninth to earn the save and propel the Commodores into the championship series.

Carey collected two hits and two RBI, while Gillaspie, who was presented the Thurman Munson Batting Championship Trophy before the contest, doubled and singled to drive in two runs. The Wichita State Shocker hit .345 during the regular season.

Hoef recorded three hits on the evening, including a home run to lead off the first inning, and Pruitt drove in two of Bourne's three runs..

Chris Binnall, Falmouth Commodores intern ([email protected])


Interns 2007: Erica Bailey, John Hannemann, Liz Hoffman,
Gabriella Remington, Kevin Wolfe