News
08/12/2007 3:07 PM
Article By:
12 August 2007
THIS WEEK IN THE CAPE LEAGUE
Championship Week
Yarmouth-Dennis Uses Three Home Runs,
Shutout Pitching to Eliminate Chatham, 4-0
CHATHAM, Mass. – The Yarmouth-Dennis Red Sox showed why they finished the regular season with the Cape Cod Baseball League's best record as they shut out the Chatham A's, 4-0, Sunday night before a crowd of 5,445 fans at Veterans Field. The victory gave Y-D a sweep of the East Division playoffs and put the Red Sox in the championship finals for the third time in four years.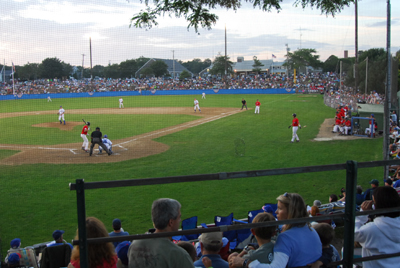 A huge crowd of more than 5000 fans at Veterans Field
for the East Division playoffs.
swilson 2007
The best-of-three finals against Falmouth get under way Monday afternoon at 3 at Red Wilson Field in South Yarmouth. Falmouth advanced with two straight victories over West Division regular-season winner Bourne. Game 2 will be Tuesday night at 7 in Falmouth and Game 3, if required, will be back in South Yarmouth at 3 p.m. Wednesday.

The Red Sox played long ball Sunday as home runs by shortstop Gordon Beckham (Georgia), third baseman Nick Romero (San Diego State) and designated hitter Jason Castro (Stanford) accounted for all of their scoring and three of their four hits. And they got another stellar performance from their outstanding pitching corps, which was ranked second best in the league.

Right-hander Scott Green (Kentucky) was the Red Sox starter and winner, with late-inning help from DJ Mauldin (Cal Poly State) and Nick Cassevechia (Baylor). Green, 3-1 with a 1.56 ERA during the season, got off to shaky start as A's center fielder Addison Johnson (Clemson) led off with a single, second baseman Kyle Seager (North Carolina) drew a walk and third baseman Jermaine Curtis (UCLA) sent a drive to left field that would have gone for extra bases had it not been for a spectacular catch by Casey Coon (Arkansas).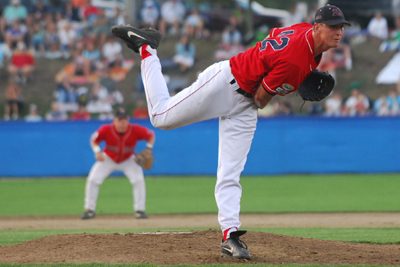 Scott Green pitched six plus shutout innings.
swilson 2007
"It was a great catch," Green said later. "He's a very talented guy from the SEC, so I know him -- I told him I owe him a dinner for that one."

Green regained his composure, retired first baseman Allan Dykstra (Wake Forest) on a force play and escaped unscathed when catcher Tim Federowicz (North Carolina) grounded out to Beckham at short. He went on to retire 15 of the next 16 batters he faced.

In 6-1/3 innings, the 6-8, 240-pound Green allowed just three hits while striking out seven, walking two and hitting two batters. DJ Mauldin and Nick Cassavechia finished up

The Red Sox had jumped out to a 2-0 lead in the first inning when Beckham homered on a 2-1 changeup from Chatham starter Tom Milone (Southern California). Malone may still have been savoring the pre-game ceremonies in which he was named the Cape League's outstanding pitcher for 2007 when he delivered a 2-1 changeup to Beckham, who blasted it over the left field fence with Buster Posey (Florida State) on first after a single.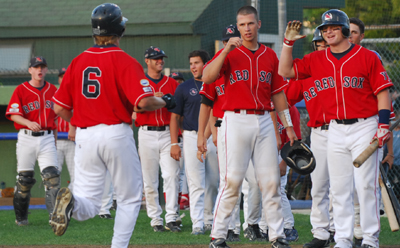 Gordon Beckham's homerun in the first inning got Y-D off to the early lead.
swilson 2007
"It's always nice to get ahead," said Beckham, whose nine homers led the league during the regular season. "You get a little confidence and a little more relaxed as the game goes on."

The A's only other threat came in the sixth inning after Johnson grounded out. Seager singled and Green plunked Curtis with a fastball. But Seager would not advance past second as Mauldin relieved Green and proceeded to get Dykstra on a line drive to left and strike out Federowicz.

One of only two pitchers in the league to collect six wins during the regular season, Milone surrendered a solo homer to Romero with one out in the eighth and was removed from the game. Reliever Kevin Couture (Southern California) got two quick outs to end the inning, but DH Castro lined a drive over the right field fence off him in the ninth for the final Red Sox run.

Milone, who was tagged with the loss, deserved a better fate. In 7-1/3 innings, the USC southpaw struck out nine and gave up just three hits – two of them home runs. He walked only one batter.

Chatham hasn't made it to the finals since 2001, when the A's lost to Wareham in three games. Their last league championship came in 1998, when they defeated Wareham in a best-of-five series that went the limit. Prior to Sunday's game, Commissioner Paul Galop presented a plaque to Chatham field manager John Schiffner for becoming the winningest manager in CCBL history. Schiffner's 337 wins surpassed Don Reed's previous record of 334.

By Kevin Wolfe, CCBL Intern [email protected]

Interns 2007: Erica Bailey, John Hannemann, Liz Hoffman,
Gabriella Remington, Kevin Wolfe