News
08/13/2007 3:09 PM
Article By:
13 August 2007
THIS WEEK IN THE CAPE LEAGUE
Championship Week
Yarmouth-Dennis Jumps out Early, Wins, 8-2,
For 1-0 Lead over Falmouth in Championship Series
SOUTH YARMOUTH, Mass. -- The Yarmouth-Dennis Red Sox took a giant step toward their third Cape Cod Baseball League championship in four years as they dominated the Falmouth Commodores from first pitch to last en route to an 8-2 victory Monday at Red Wilson Field. The best-of-three series continues Tuesday night under the lights in Falmouth.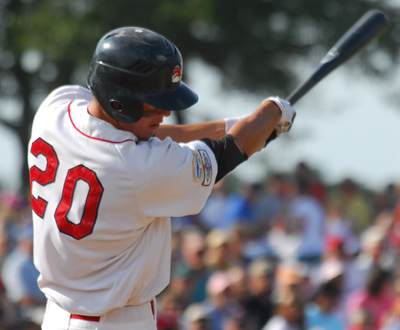 Grant Green had a 2 HR and 4 RBI afternoon to lead the YD attack.
swilson 2007
Monday's crowd of 4.335 was treated to a textbook example of why Y-D led the league's East Division from the outset and finished the regular season with 31 wins. The Red Sox combined strong, if erratic pitching with timely hitting and a stingy defense to defeat the West Division standard-bearers, who were without their best player, third baseman Conor Gillaspie. The league batting champ (.345) and MVP left Cape Cod earlier in the day to return to classes at Wichita State University.

Falmouth starter Shooter Hunt (Tulane) lasted just 2-1/3 innings, giving up four runs on four hits. In the first, he was touched for a leadoff home run by Grant Green (Southern California), who also blasted a solo shot in the fifth against reliever Preston Claiborne (Tulane). Buster Posey (Florida State) made it 2-0 in the first when he scored on a sacrifice fly by Gordon Beckham (Georgia).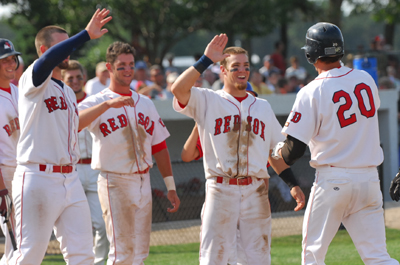 Grant Green's lead off HR in the first inning got YD rolling.
swilson 2007
The Commodore right-hander was removed with one out in the third after Jason Castro (Stanford) singled and Aaron Luna (Rice) walked. Right-hander Preston Claiborne (Tulane) replaced Hunt and gave up another walk to load the bases before striking out Collin Cowgill (Kentucky) and inducing a ground ball out from Joey Railley (San Francisco) to end the threat.

The Red Sox made it 4-0 in the second, scoring twice on an RBI double by Railley that drove in Cowgill and a ground ball by Green that plated Railley. Green was playing first base in the playoffs after an elbow injury in the final regular-season game sidelined Sean Ochinko (Louisiana State).

Terry Doyle (Boston College), co-winner of the 2006 Pitcher of the Year Award, earned the win by giving up just two runs on four hits in 6-1/3 innings. The 6-4, 230-pound right-hander struck out seven Commodores but struggled with his control as he walked three and uncorked four wild pitches.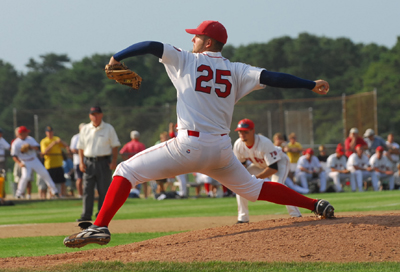 Terry Doyle pitched 6 and 1/3 innings allowing 4 hits.
swilson 2007
Three of Doyle's errant throws to the plate came in the fourth inning and two of them led to Falmouth's first run. David Adams (Virginia) took both third and home on pitches that hit the dirt in front of the plate and eluded catcher Posey. The 6-foot-2, 205-pound power hitter, who led his team with 51 hits on the season, had doubled off the left field fence in front of the scoreboard.

Adams scored the second Falmouth run in the sixth. After reaching on a single, he stole second and took third on Doyle's fourth wild pitch of the afternoon. A sacrifice fly by Phil Carey (Winthrop) brought him home.

The Red Sox collected three insurance runs in the eighth of off reliever Erik Bird (Nebraska). Green collected his fourth RBI of the game and Posey and Matt Long (Santa Clara) each drove in one run.

Right-hander DJ Mauldin (Cal Poly State) shut down the Commodores over the last 2-2/3 innings to preserve Doyle's seventh win of the summer.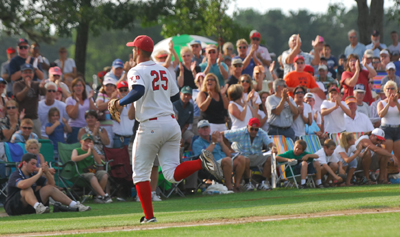 YD fans had lots to cheer about including Terry Doyle's pitching performance.
swilson 2007
Doyle said there couldn't be a better way to finish his Cape League career than with back-to-back championships. "It would be great (to win again)," he said. "Last year was a lot of fun, but to be able to go back to back, which nobody's done in a while, would be great. I mean, everybody likes winning!"

The last Cape League team to capture consecutive titles was Wareham in 2002 and 2003. Yarmouth-Dennis last did it in 1989 and 1990.

The league record for consecutive championships is four, shared by Falmouth (1988-1991) and Cotuit (1972-1975).

Tuesday night's game starts at 7 at Guv Fuller Field's Arnie Allen Diamond, where another huge crowd is expected. The Red Sox will be heavy favorites, having swept all four regular-season games against the Commodores. Y-D sends Georgia right-hander Trevor Holder (4-1, 0.89 ERA) to the mound while Falmouth counters with Christian Friedrich (4-1, 2.68 ERA), a left-hander from Eastern Kentucky.
By Kevin Wolfe, CCBL Intern ([email protected])

Interns 2007: Erica Bailey, John Hannemann, Liz Hoffman,
Gabriella Remington, Kevin Wolfe