News
08/17/2007 3:16 PM
Article By:
17 August 2007
THIS WEEK IN THE CAPE LEAGUE
2007
B.F.C. WHITEHOUSE
OUTSTANDING PITCHER AWARD
2007 B.F.C. Whitehouse Award for Outstanding
Pitcher Goes to Chatham Southpaw Tom Milone
After a solid 2007 season in which he led the Chatham Athletics into the Cape Cod Baseball League's East Division playoffs, left-hander Tom Milone (Southern California) was named winner of the B.F.C Whitehouse Award as the league's outstanding pitcher. Milone finished at or near the top in virtually every statistical category and was a team leader on and off the field.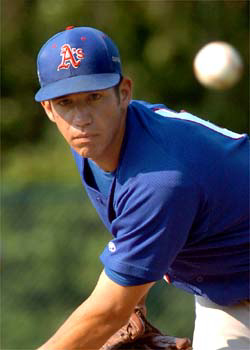 Tom Milone, Chatham A's
SportsPix 2007
Milone, who was 6-1 on the season with a 2.92 ERA, tied for the league lead in wins with Yarmouth-Dennis's Terry Doyle (Boston College) and was one of just four CCBL pitchers to author a complete-game shutout in 2007. His strikeout-to-walk ratio was outstanding as he fanned 46 while issuing only seven free passes and his total of 52-1/3 innings worked was fifth highest in the league.

"He'd go out there in pressure situations every night and dominate," said fellow A's pitcher Ryan Hinson (Clemson). "He was always being called on for big regular-season games and huge post-season games, and that's why he deserved this award. He never backed down one time."

The A's, under manager John Schiffner, finished second in the East behind powerhouse Y-D, which ousted them from the divisional playoffs in two straight games en route to their third Cape League crown in four years. Milone played a huge role in the A's success, particularly when Chatham played arch-rival Orleans. Four of his six wins came against the Cardinals, an important fact when one considers the fact that Chatham finished only six points ahead of Orleans in the battle for the second and final East Division playoff berth.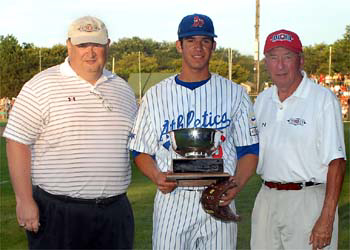 Tom Milone, Chatham A's
with Commissioner Paul Galop
and Deputy Commissioner Richard Sullivan
SportsPix 2007
Even though Milone's last start was a loss, he went down fighting. He took the ball in the second divisional playoff game against Y-D and threw a gem. He held the hard-hitting Red Sox to just three hits in 7-1/3 innings while striking out nine and walking one. But his teammates were unable to provide any offensive support and Yarmouth-Dennis won, 4-0, to end the A's season.

Last summer, Milone pitched in the West Coast Collegiate League, starting and relieving for the Wenatchee AppleSox of Wenatchee, Wash. He worked 51-2/3 innings, recording a 5-1 record with two saves and a 2.61 ERA, figures remarkably similar to those he compiled for Chatham.

Milone returns to Southern Cal in the fall for his junior year, hoping to continue his dominance at the college level. Last season, as a sophomore, he recorded a 3-7 record and 6.17 ERA in 15 starts for the Trojans. Milone is accustomed to receiving awards, having made the All-Santa Clarita Valley team after recording a 9-2 record with a 1.04 ERA as a senior at Saugus High School in Saugus, Calif.
By John Hannemann, CCBL Intern [email protected]

Interns 2007: Erica Bailey, John Hannemann, Liz Hoffman,
Gabriella Remington, Kevin Wolfe