News
08/17/2007 3:17 PM
Article By:
17 August 2007
THIS WEEK IN THE CAPE LEAGUE
2007
RUSS FORD
OUTSTANDING RELIEF PITCHER AWARD
Y-D's Nick Cassavechia Wins Russell Ford Award
As Top Reliever after Leading Cape League in Saves
The Yarmouth-Dennis Red Sox had a team built to excel this year -- excellent starting pitching, solid fielding and powerful bats -- and to anchor that roster, they had closer Nick Cassavechia. The right-hander from Baylor University led the Cape Cod Baseball League in saves with 11 and was honored with the 2007 Russell Ford Award for outstanding relief pitcher.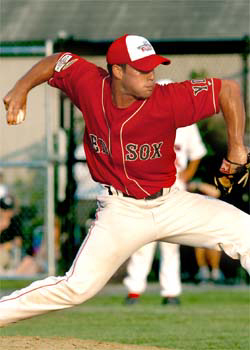 Nick Cassavechia, Y-D Red Sox
SportsPix 2007
Russell Ford played a major role in turning the Cape Cod Baseball League into the premier league it is today. He dedicated four decades of service to the CCBL, four as league president (1978-1983) and many more as an anchor of the Orleans Cardinals franchise.

Cassavechia's 11 saves in the regular season helped his Red Sox to a league-best 31-12-1 record. In 16 appearances, he pitched 25-1/3 innings and finished 15 games. He showed excellent command as he collected 24 strikeouts against only three walks. He compiled a 1-1 record and gave up just three earned runs for an ERA of 1.07. His saves total would have been higher, but the Red Sox often held late-inning leads too big for a save opportunity.

His exceptional performance throughout the summer earned him not only the Russell Ford Award, but also a spot on the 2007 East Division roster for the Cape League All-Star Game. In the one inning he pitched in the All-Star Game at Wareham, he struck out one batters and allowed no runs.

For Cassavechia, the award is more than just another plaque on the wall. It's an achievement of which he is intensely proud.
"It's a great honor to win it," he said. "There are a ton of unbelievable pitchers out here and it's a huge honor to be recognized as the top reliever. It's another milestone for me this summer."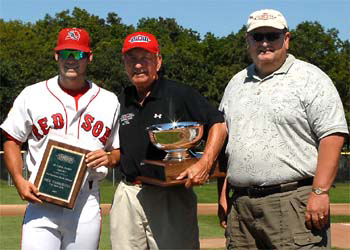 Nick Cassavechia, Y-D Red Sox
with Deputy Commissioner Richard Sullivan
and Commissioner Paul Galop.
SportsPix 2007
A product of St. Mark's High School in Dallas, Cassavechia was named second-team All-Big 12 Conference by the Waco Tribune-Herald and honorable mention all-league by the coaches last spring. He was 6-2 with a 3.12 ERA and 11 saves in 2007, recording 72 strikeouts against 20 walks in 52 innings.

Cassavechia established a Baylor record for strikeouts in relief and is one of only two Baylor closers to record eight or more saves in multiple seasons. He will enter the 2008 season tied with Abe Woody for second place on Baylor's career saves list with 19. He and Woody also are tied for seonc on Baylor's career Big 12 saves list with eight.

Cassavechia is the second Red Sox closer to win the Russell Ford Award in as many years, joining Josh Fields (Georgia), who took home the honor in 2006 with 13 saves.
By Kevin Wolfe, CCBL Intern [email protected]

Interns 2007: Erica Bailey, John Hannemann, Liz Hoffman,
Gabriella Remington, Kevin Wolfe