News
09/24/2007 3:36 PM
Article By:
24 September 2007
THIS WEEK IN THE CAPE LEAGUE
2007
PA - SPORTSTICKER
PLAYOFF MVP AWARD
Trevor Holder Hurls Y-D Red Sox to Title and Captures
Star of Stars Playoff MVP Award from PA-SportsTicker
After mowing down the opposition during the regular season and first round of the playoffs, the Yarmouth-Dennis Red Sox needed somebody to step up in the championship game at Falmouth.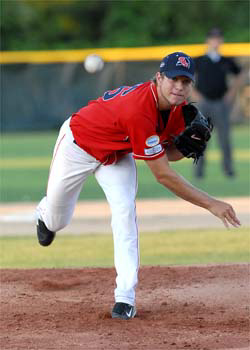 Trevor Holder, Y-D Red Sox
SportsPix 2007
So Red Sox skipper Scott Pickler handed the ball to Trevor Holder in the second and deciding game of the Cape Cod Baseball League championship series and the University of Georgia right-hander came through with flying colors.

Holder limited Falmouth to just one hit and struck out 10 Commodores through eight innings before giving way to the league's top closer, Nick Cassavechia (Baylor), who struck out the side in the ninth.

The 6-foor-3, 198-pound Holder's performance earned him the Star of Stars Playoff MVP from PA-SportsTicker.

The exciting 2-0 finale win delivered Y-D's second straight Cape League championship and third in the past four years.

Holder, 4-1 with a 0.81 ERA during the regular season, allowed just one base runner through six innings, No. 8 hitter Andrew Giobbi (Vanderbilt), who hit an opposite-field single in the third.

Falmouth's best opportunity of the game came in the seventh inning when Holder gave up consecutive walks to Aja Barto (Tulane) and John Wallace (Oregon State). But he pitched himself out of the jam, by striking out Farrell for the last out of the inning.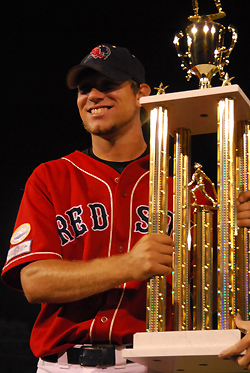 Trevor Holder, Y-D Red Sox
Playoff MVP
swilson 2007
As a sophomore at Georgia last spring, Holder compiled a 2-3 record with a 4.50 ERA in 20 appearances, including 10 starts. He pitched 64 innings in which he allowed just 26 walks while leading the Bulldog staff with 60 strikeouts. He registered wins over Wofford and No. 13 Mississippi State and losses to No. 15 Oregon State, Tennessee and Kentucky.

As a freshman for the Bulldogs in 2006, he posted a 5-3 mark and a 4.70 ERA in 21 appearances, including eight starts, in helping Georgia to the College World Series, going 2-0 with a 0.87 ERA in three appearances.

After the CCBL championship game, the Birmingham, Ala., native summed up his experience on the Cape in a few simple words: "It was the best summer of my life," he exclaimed.

It was the second consecutive season in which a Yarmouth-Dennis pitcher captured the award. Red Sox reliever David Robertson (Alabama) was named the 2006 winner for his outstanding playoff performance.



By John W. Garner Jr., CCBL Director of Public Relations & Broadcasting

Interns 2007: Erica Bailey, John Hannemann, Liz Hoffman,
Gabriella Remington, Kevin Wolfe