League News
03/14/2008 9:00 AM
Article By:
June 28 Yarmouth-Dennis Home Game vs. Falmouth
Switched to Campanelli Stadium in Brockton;
Proceeds to Benefit Cape League's Hall of Fame
HYANNIS, Mass. – The Yarmouth-Dennis Red Sox and the Falmouth Commodores will boldly go where no Cape Cod Baseball League team has gone before when they travel to Brockton on Saturday night, June 28, for an official, regular-season game at Campanelli Stadium. All gate receipts will go to the new Cape League Hall of Fame, which will be opening soon at the John F. Kennedy Museum on Main Street in Hyannis.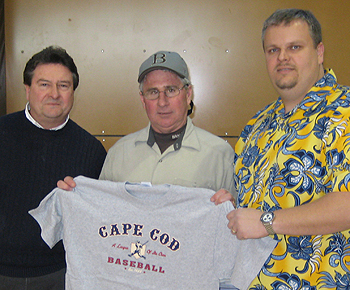 Y-D GM Jim Martin, Rox President Jack Yunits and Falmouth GM Dan Dunn after the presentation of a Cape League T-shirt to Yunits last month at the Cape Cod Baseball Expo in Chatham
Sherman / ccbl 2008
Plans to shift the contest from Red Wilson Field in South Yarmouth to the six-year-old stadium were announced recently in joint media releases by the Cape League and the Brockton Rox, operators of the minor league ballpark located just off Route 123 on the campus of Brockton High School.

Negotiations were completed on Monday, March 3, at a meeting in Hyannis, where the Rox not only pledged to donate all gate receipts from the game to the Cape League Hall of Fame, but to cover the expenses incurred by the participating teams, including lost revenue for what would have been a Y-D home date, plus travel and meal costs.

"We are pulling out all the stops as we welcome two championship-caliber teams from the premier summer collegiate baseball league in the country to the City of Champions," said Rox President Jack Yunits, a former five-term Brockton mayor. "We're delighted to be able to host the teams that played for the Cape Cod League Championship last season and we know our fans will be seeing some of the nation's best young collegiate ballplayers," Yunits continued.

Yarmouth-Dennis defeated Falmouth in the 2007 Cape League Championship Series, capturing the Arnold Mycock Trophy for the second year in a row and the third time in four years.

The Cape Cod League is regarded throughout college baseball and by professional scouts as the country's No. 1 summer league for collegiate players. In the MLB 2007 first-year player draft, a total of 222 former Cape Leaguers were selected, seven of them in the first round and four among the top 10.

Some 212 ex-Cape League players dotted Major League rosters in 2007 and 20 Cape League graduates played for last fall's World Series opponents. Among those on the World Champion Boston Red Sox were Series MVP Mike Lowell (Chatham 1994), team captain Jason Varitek (Hyannis 1991 & 1993), Gold Glove first baseman Kevin Youkilis (Bourne 2000) and speedy rookie phenom Jacoby Ellsbury (Falmouth 2004). Top CCBL alumni performing for the National League champion Colorado Rockies included All-Star slugger Todd Helton (Orleans 1994), Omar Quintanilla (Cotuit 2002), slugging third baseman Garrett Atkins (Cotuit 1998 & 1999) and pitcher Ryan Speier (Bourne 2001).

Cape Cod League President Judy Walden Scarafile thanked Y-D and Falmouth team officials for their willingness to move the game from South Yarmouth to Brockton and expressed delight at the cooperation shown by all parties to the agreement.

"Joe Sherman (of the CCBL's public relations department), Jim Martin (Y-D general manager), Dan Dunn (Falmouth GM) and Jack Yunits of the Rox have all worked very hard to make this game a reality," she said. "This project was proposed just over two months ago, and we have been able to move swiftly and effectively to give it life. We are thrilled that the Cape Cod League will be exposed to a whole new audience in a wonderful venue and we know that fans of the Y-D Red Sox and the Falmouth Commodores will want to be there on June 28 to share in the fun."

Campanelli Stadium is easily accessible from Cape Cod. It is approximately 65 miles from Yarmouth-Dennis's home park in South Yarmouth, and this translates to a drive of just under an hour and 15 minutes. From Falmouth's Guv Fuller Field, it's a 54-mile drive that takes a little over an hour.

The Brockton ballpark is considered the crown jewel of the independent Can-Am League and in 2007 was voted its best playing field by media representatives and the league's 10 field managers for the sixth straight season.

Campanelli opened in 2002 when the Rox began made their debut in the independent Northeast League. It features one of the larger playing surfaces in the Can-Am League, measuring 320 feet down the left and right field lines, 404 feet to straight-away center, and 410 feet at the left-center field wall. The stadium is named after the late Alfred Campanelli, a successful businessman and Brockton native who donated $2 million to be used for a recreational project for the city.

The Rox led the Can-Am League in attendance again in 2007, attracting 169,999 fans in 51 openings, an average of 3,333 per game. Campanelli Stadium can accommodate up to 6,500 for baseball.

Cape League Commissioner Paul Galop joined Scarafile in expressing satisfaction that the pieces could be put in place so quickly to make this game a reality. He pointed out that Yarmouth-Dennis will be the "home" team, but because of the league's unusual involvement he has appointed Deputy Commissioner and Umpire-in-Chief Sol Yas, a resident of Easton, as the league's liaison officer for the event.

John Garner Jr., Cape League director of public relations and broadcasting, said the game will be carried on the league's web site, www.capecodbaseball.org, as a Y-D Red Sox Internet broadcast and will also be aired live by radio station WATD (95.9 FM) in Marshfield. Plans for television coverage also are in the works, Garner said.

A number of special activities will take place on game night, Garner said. Throwing out the ceremonial first pitch will be a former Cape League player whose family name is known to sports fans around the world. Peter Marciano, the younger brother of Brockton's all-time favorite son, the late undefeated heavyweight champion of the world, Rocky Marciano, has agreed to do the honors. Peter was an outstanding catcher at Brockton High School and played at Brewster and Sagamore in the Cape League in the late 1950s and early 1960s. He is a resident of White Cliffs in Plymouth.

Several other Brockton and South Shore baseball stars of yesteryear are expected to join Marciano for the pre-game ceremonies.

Garner pointed out that the game in Brockton will be one of four to be played by Cape League teams in non-league ballparks this coming season. Wareham will be the "home" team at Paul Walsh Field in New Bedford for the third straight year. In fact, the Gatemen will play there twice, hosting Orleans on Monday, June 16, and Bourne on Friday, July 11. And on Tuesday, July 22, Falmouth's Commodores will sail over to Martha's Vineyard where they will host Wareham in an afternoon game on the new diamond at Martha's Vineyard Regional High School.