League News
03/30/2008 9:03 AM
Article By:
Cape League Icon John Wylde Named
Winner of NEIBA's Andy Baylock Award
At Northeastern University Baseball Dinner
BOSTON, Mass. – Longtime Wareham Gatemen President and General Manager John Wylde was honored at Northeastern University's annual baseball dinner on Feb. 15, receiving the prestigious New England Intercollegiate Baseball Association Andy Baylock Distinguished Service Award for his outstanding contribution to college baseball.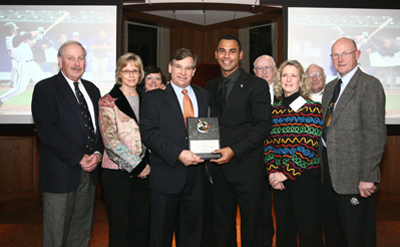 Tom Gay and Carlos Pena
accepted the NEIBA's Andy Baylock Distinguished Service Award
on behalf of John Wylde
Photo by Jim Pierce / www.digitalvideocreation.com
Standing in for Wylde, Wareham's new general manager Tom Gay and Tampa Bay Rays first baseman Carlos Pena accepted the award from Neil McPhee, Northeastern's baseball coach. Pena was the Cape Cod Baseball League's MVP while leading Wylde's Gatemen to the league championship in 1997. Last summer, he won the American League's Comeback Player of the Year award with Tampa Bay.

On Sept. 14, 2007, Wylde was diagnosed with inoperable liver cancer. This news shocked his Cape League colleagues as well as many people throughout the baseball world who realized the contributions that Wylde has made to the Gatemen, to baseball and to the town of Wareham.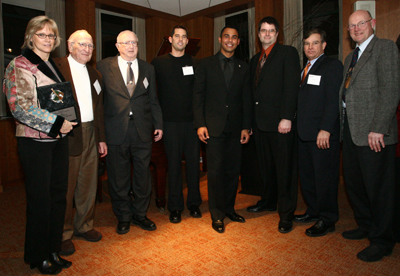 Awards Presentation evening at Northeastern University
Photo by Jim Pierce / www.digitalvideocreation.com
Fittingly, many awards have come Wylde's way over the past six months. On Nov. 3, he was inducted into the Cape Cod Baseball League Hall of Fame and was named winner of the league's Richard Sullivan Executive of the Year Award. On Dec. 11, with family members, friends, and neighbors on hand, state Rep. Susan Williams-Gifford presented Wylde with a proclamation from the Massachusetts House of Representatives. It was given for service not only to the Gatemen, but to the town of Wareham, which he has served as a member of the Finance Committee, Personnel Board, Recreation Committee and Board of Selectman.

And this coming June 13, opening day for the Cape League, the press box at Spillane Field will officially become the John Wylde Press Box. The Gatemen will be hosting the Falmouth Commodores in the only game scheduled that day. The remaining eight teams will open the following day.

The NEIBA award, which first bore Andy Baylock's name in 2007, is given to an individual who helps promote the game of baseball at the college level and helps players develop into responsible citizens. It is named for the longtime University of Connecticut coach, who became involved with UConn baseball in 1964 and was named head coach in 1980. He retired after the 2003 season. Baylock amassed 556 wins for the Huskies and his teams won two Big East tournament championships (1990 and 1994). They also advanced to the NCAA tournament three times (1990, 1993 and 1994).

Wylde became president and general manager of the Gatemen in 1984 and has very closely duplicated the fine work done by Baylock at UConn. Under Wylde's guidance, the Gatemen have won 562 games -- only four fewer than Baylock's Huskies – and have made the playoffs 17 times, advanced to the finals 10 times and won the league championship five times.

Sixty-eight Wareham players have gone on to play in the Major Leagues, including stars such as Barry Zito, Maurice "Mo" Vaughn, Chuck Knoblauch, Lance Berkman and Pena. Big leaguers who played for Wylde at Wareham represent approximately10 percent of all Cape Leaguers who have made it to the Major Leagues over the years. (Approximately 680 Cape League alumni have worn Major League uniforms, including Hall of Famers Pie Traynor and Carlton Fisk.)

Wylde's dedication to the team and its players was not lost on Pena. While accepting the Baylock award, Pena stated, "I am sad that John is not here for this award, but he really is here (Pena tapped his chest). Nineteen ninety-seven was the best summer of my life and I want to thank John Wylde for that."

"Having Carlos be part of this presentation for John made it even more special," said Cape League President Judy Walden Scarafile. "We were very disappointed that John was not able to attend, but of course we understand the circumstances."

Although Wylde has handed the reins of general manager to Gay, he is continuing as the team's president and he plans to be in the press box on opening day, assuming his usual position behind the microphone as the Gatemen's public address announcer.

Wylde is the latest winner of the NEIBA award who has ties to the Cape Cod Baseball League. In 1984, umpire Robert "Curly" Clement and Major League scout Lennie Merullo were co-winners. Both are members of the Cape League Hall of Fame. Wylde's former Wareham colleague John Claffey was honored in 1988, and in 1990, former Cape League publicist/statistician and longtime Boston Red Sox executive Dick Bresciani, another Cape League Hall of Famer, was a co-winner. Nick Zibelli, founder and head of the organization that provides the Cape League's umpires, was the Baylock award winner in 2006.
Bill Watson
CCBL PR Staff
(508-833-2380)
[email protected]