League News
04/03/2008 9:12 AM
Article By:
Ex-Bourne Brave Youkilis Breaks Garvey's
MLB Record for Errorless Games at First Base
OAKLAND, Calif. – Kevin Youkilis, the Boston Red Sox's Gold Glove first baseman, is Major League Baseball's newest record-holder after handling the final out in Boston's 5-0 victory over the Oakland A's Wednesday afternoon.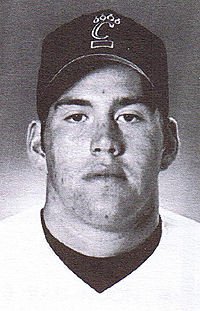 Photo from Bourne Braves Media Guide 2000
The former Cape Cod Baseball League All-Star played in his 194th consecutive game at first base without committing an error, surpassing the record set by Steve Garvey, who played errorless ball for the Los Angeles Dodgers and San Diego Padres from June 26, 1983, through April 14, 1985.

Youkilis, who started his streak on July 5, 2006, played for the Bourne Braves in 2000, making the Cape League All-Star Team as the third baseman. He signed with the Red Sox and progressed through their minor league system at that position until Boston decided to try him at first base in 2005, a move that has paid off handsomely.

The University of Cincinnati graduate won the Gold Glove last year for the Sox while helping them win their second World Series title in four years.

"He plays an aggressive first base. This is not a fluke," said Red Sox manager Terry Francona. "He makes throws, scoops balls and is very active. I think what this does is bring some attention to him nationally."

Youkilis did not find out about the record until after the game. He called it "a great honor" to be linked with a player of Garvey's status. He pointed out that he met Garvey for the first time the previous Saturday night when the Red Sox were in Los Angeles for an exhibition game with the Dodgers.