League News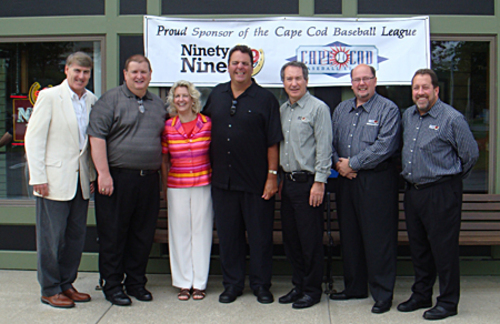 06/12/2010 3:13 PM
Article By:
The Cape Cod Baseball League kicked off with its annual "First Pitch" brunch at the 99 Restaurant last Sunday. In attendance were sponsors, volunteers, general managers, and field managers for all 10 teams ----- and the excitement was hard to conceal.
The brunch started with a championship banner presented to the Bourne Braves for their win last summer. The morning proceeded with the announcement of 10 new players selected to the league's Hall of Fame. David Aardsma of Falmouth, Casey Close of Harwich, Jack Cressend of Cotuit, Peter Ford of Harwich, Wayne Granger of Sagamore, Tom Grieve of Chatham, Mike Loggins of Harwich, Lou Merloni of Bourne and Cotuit, Steve Robbins of Wareham and Tom Weir of Chatham will be honored at ceremonies in November.
Each team's field manager was introduced by master of ceremonies Pete Sheppard, who is in his ninth year hosting the brunch. Sheppard described the league as the best in world, thanks to its sense of community and generosity of the volunteers. He said professional sports should model their own teams after the league.
Among those managers providing a preview of their squads were Bourne's Harvey Shapiro, who is returning for his seventh season, and John Schiffner, beginning his 26th year with the Chatham Anglers. Yarmouth-Dennis' Scott Pickler, a two-time winner of the Curran Manager of the Year award, and Cotuit's Mike Roberts, a four-time winner of the National Coach of the Year for California Junior Colleges, were also in attendance.
The season opens on Sunday, June 13th when Cotuit faces Wareham at Spillane Field.