League News
06/30/2008 10:19 AM
Article By:
Harwich Honors Fred Thacher: Coach, Mentor, Friend
HARWICH—The Harwich Mariners honored Fred Thacher at Whitehouse Field last week with the unveiling of a plaque and a dedication ceremony meant to remember the man who loved baseball and gave so much of himself to the community.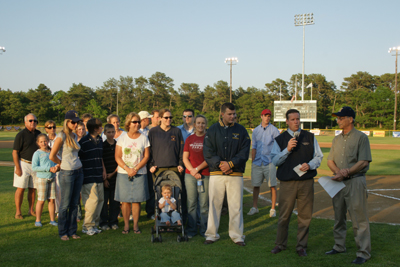 The Thacher Family was honored on Whitehouse Field
during the pre-game Harwich Mariners vs. Y-D Red Sox Cape League game.
Photo by Tom Underwood / 2008
The day for the ceremony had been chosen months in advance to commemorate the one year anniversary of his retirement and of leading his high school's baseball team to state championship. It also marked what would have been his 58th birthday.

Thacher grew up in Yarmouth and played for the YD Red Sox in his college days. An educator and coach at Harwich High School for 26 years, Thacher recently lost his battle with cancer.

With the flag at half-mast over the score board and Thacher's family behind him, longtime friend Steve Wilson stood on the diamond and addressed the crowd.

"Fred Thacher," Wilson said, "was a great man and legendary Harwich coach of both boys and girls teams, who he inspired and taught life lessons of how to follow their dreams and be winners in life.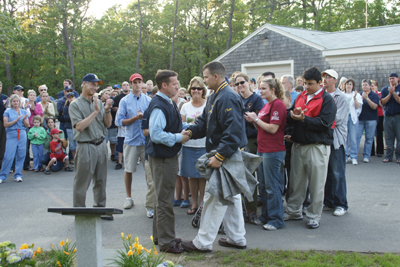 On behalf of the family, eldest son, Joe Thacher unveiled the plaque at Whitehouse Field honoring his father's years of contributions to the Harwich schools and community. Representing the Harwich schools and community, Principal Kevin Turner coordinated this special ceremony with the Harwich Mariners.
Photo by Tom Underwood / 2008
"Fred did it the old fashion way," Wilson continued, "with a smile on his face, followed by hard work, dedication and setting goals."

Thacher, who coached three varsity sports, had over 650 wins and was the Cape Cod Times Baseball Coach of the Year seven times.

Kevin Turner, the principal at Harwich High School and a friend of Thacher's for the last twenty years, also spoke at the unveiling ceremony of the plaque at the entrance of Whitehouse Field. While Thacher's son Joe unveiled the home-plate shaped plaque, Turner read aloud the years and accomplishments Thacher had, from the years he coached and taught to the state titles he and his teams won in Basketball 2005 and 2006 and in Baseball 1996, 2006 and 2007.

"We went to the State Championship game last year," Turner said. "Putting the State Championship ribbon around his neck, knowing it was his last game, it was moving."

For Turner, it was the little things about Thacher that stood out, from the philosophical conversations they had to the pace Thacher set for himself. "If Fred said he needed 2 minutes, he needed 15."

Overall, it was Thacher's spirit for life that stuck out. "He was never too busy or too tired to give 100% to everyone and everything he did with enthusiasm and encouragement," Wilson said of his friend. "Everyone loved Fred because Fred made a difference in the lives of others by bringing out the best in everyone he touched."

"Fred is a legend and shows how much one person can do to make this world a better place," Wilson finished. "And as he once said to me, 'Everything is easier with a smile."

Ashley Crosby, CCBL Intern, ([email protected])