League News
01/19/2009 8:54 AM
Article By:
American Baseball Coaches Association
Presents Meritorious Service Award
To Cape League President Scarafile
SAN DIEGO, Calif. -- Judy Walden Scarafile continues to pile up accolades. The president of the Cape Cod Baseball League was presented a Meritorious Service Award by the American Baseball Coaches Association at the organization's honors luncheon earlier this month at the San Diego Marriott and Marina.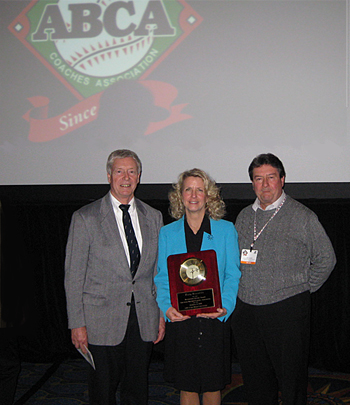 General Managers Ned Monthie ( Brewster) and Jim Martin ( Y-D) join Judy Walden Scarafile as she received the 2009 Meritorious Service Award from the American Baseball Coaches Association in San Diego earlier this month.
photo credit: Peter Scarafile
The long-time CCBL president was one of three recipients of the 2009 ABCA award, joining University of Mississippi Athletic Director Larry Templeton and Cal State Fullerton Professor of Applied Sports Psychology Ken Ravizza.

"It was a great honor to be recognized by this national organization of coaches and baseball administrators," said Scarafile. "My gratitude is also to the Cape League for giving me the opportunity to serve as president for 18 years. It certainly is a privilege to work with the incredible volunteers in the league. Like many former Cape League players who have gone on to careers in baseball say, 'If it weren't for the Cape League, I would not have had the opportunity'."

Scarafile has served the Cape League in various capacities since 1970, when she was a student sports writer for the University of Connecticut baseball team and began scoring CCBL games under then Public Relations Director Dick Bresciani. Bresciani went on to work for the Boston Red Sox for 36 years.

After serving as Bresciani's assistant, Scarafile rose through the CCBL ranks as league publicist, secretary, vice president and deputy commissioner. In 1991, she became the league's first female president.

As president, she oversees administration, finance, league meetings, public relations, marketing and the league's strategic planning program. She became the first director of corporate development and has procured more than 45 corporate sponsors, enabling the league to produce an annual budget of $620,000.

A true pioneer in baseball, Scarafile became the first woman to be inducted into the Cape League Hall of Fame in 2003 and was named to the Yawkey Foundation Board of Trustees.
She was also presented the Women's Leadership (Pioneer) Award from the Dorchester Boys and Girls Club and the Business and Professional Women's Organization's Woman of Achievement award during 2008.

ABOUT THE CAPE LEAGUE
The Cape Cod Baseball League can trace its roots to July 4, 1885, when teams from Barnstable and Sandwich met in a "base ball" game at Sandwich. The league has adopted that date as its birthday and thus will be starting its 125th season when play begins this June 11. Starting with individual town teams, the CCBL reorganized in 1923 with teams in Chatham, Falmouth, Hyannis and Osterville and in 1963 it became sanctioned by the NCAA. It is now the premier collegiate baseball summer league in the country.
More than 1,000 alumni are now performing at all levels of professional baseball and 200-plus former Cape Leaguers populate major league rosters, including Cy Young Award winner Tim Lincecum (Harwich 2005), slugging first baseman Mark Teixeira (Orleans 1999), AL Comeback Player of the Year Carlos Pena (Harwich 1996/Wareham 1997) former Cy Young Award winner Barry Zito (Wareham 1997 & 1998), former AL MVP Frank Thomas (Orleans 1988), former AL batting champion Nomar Garciaparra (Orleans 1993) and former NL Fireman of the Year Billy Wagner (Brewster 1992). Current big league managers include Cleveland's Eric Wedge (Yarmouth-Dennis 1988) and the New York Yankees' Joe Giardi (Cotuit 1984).
New Mexico Gov. Bill Richardson, a former U.S. congressman, United Nations ambassador, secretary of the Department of Energy and, more recently, a candidate for the Democratic presidential nomination, played for Cotuit and Harwich in the late 1960s.
The list of Cape League alumni who played major league baseball now totals 758 names, including Baseball Hall of Famers Harold "Pie" Traynor (Falmouth 1919) and Carlton Fisk (Orleans 1966), former New York Yankee greats Red Rolfe (Orleans 1930) and Thurman Munson (Chatham 1967), Major League managers Bobby Valentine (Yarmouth 1967) and Buck Showalter (Hyannis 1976), Cy Young Award winners Steve Stone (Chatham 1968) and Mike Flanagan (Falmouth 1972), Firemen-of-the-Year Wayne Granger (Sagamore 1962) and Jeff Reardon (Cotuit 1974-76), Major League shortstop and scout Lennie Merullo (Barnstable 1935), slugging first baseman Jeff Bagwell (Chatham 1987 & 1988) and Craig Biggio (Y-D 1986), the only former Cape Leaguer to amass more than 3,000 hits in the major leagues.

Joe Sherman, CCBL Public Relations Staff ([email protected])