League News
02/26/2009 8:57 AM
Article By:
John Wylde Passes Away
Veteran and distinguished Wareham Gatemen president and GM John Wylde, died Monday February 23, 2009 after a long and heroic battle with cancer.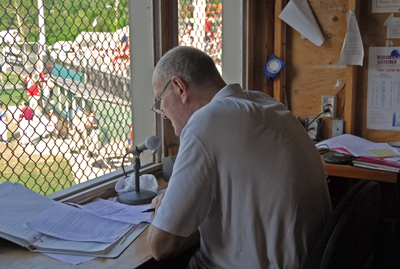 John Wylde of the Wareham Gatemen at his familiar seat on Game Day.
Wylde, who also served as head statistician and official scorer, official tryout coordinator, a Major League Baseball liaison and record-keeper in the Cape Cod Baseball League and driving force behind the Wareham Gatemen for the past quarter-century, died early Monday morning from liver cancer that was diagnosed in the fall of 2007. He was 70 years old.

No funeral service arrangements have been made yet.

A more in depth story on John Wylde will appear this weekend after the Tribute to John Wylde being held at the CCBL Hall of Fame on Friday, February 27, from 5:00 to 7:00 pm.

John Garner, Jr.