League News
02/28/2009 9:00 AM
Article By:
A Tribute to John Wylde
A Memorial gathering at the CCBL Hall of Fame
By Judy Walden Scarafile
President, Cape Cod Baseball League

HYANNIS, Mass. -- More than 60 Cape League volunteers overflowed the Curry College Theater at the Cape League Hall of Fame and Museum last night as we gathered to mourn the loss of John Wylde, longtime president and general manager of the Wareham Gatemen.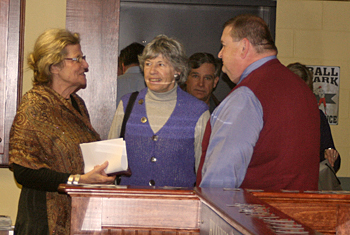 Laina Swiny and Patty Wylde with Paul Galop
at the Tribute for John Wylde at the CCBL Hall of Fame Museum.
Photo by Linda McKiernan / 2009
Because the formal celebration of John's life will take place in the spring, the Cape League organized this event to bring volunteers together to share John Wylde stories and console each other as they face a season without Mr. Baseball.

The gathering featured a video tribute to John from Boston Red Sox pitchers and former Wareham Gatemen Justin Materson and Daniel Baird, which was taped Thursday in the Sox dugout at City of Palms Park in Fort Myers, Fla. It was prepared for last night's event by CCBL Website Editor Joe Sherman and Terry Duenas, director of the Cape Cod Community Center.

Several league officials and team volunteers spoke, but the highlights of the evening were the brief speeches from Patty Wylde and John's sister, Laina Swiny, who quickly told the crowd that SHE played baseball, too.

"I lost my big brother, said Laina, "and he was big in so many ways, besides his 6-foot-9 frame."

Patty Wylde spoke of John's love for the league and everyone involved in it.

" I had a wonderful marriage, thanks to you all. John would leave the house every day in the summer at 4:30 in the afternoon and I could then have the house to myself. He truly loved the Gatemen and the Cape League and all of you," said Patty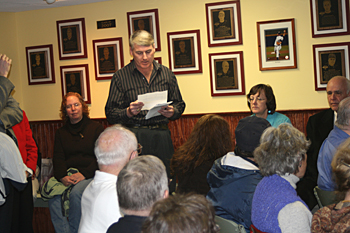 John Garner read a tribute from the Wareham Gatemen as one of the many tributes to John Wylde during the evening.
Photo by Linda McKiernan / 2009
An official statement from the Wareham Gatemen, written by Sheri and Tom Gay was read beautifully by CCBL Public Relations Director John Garner.

Jim Higgins, the league's senior vice president and MC for the evening, told a story of his first meeting with Wylde in the 1980's and a disagreement with him as to how often game statistics needed to be published. Wylde made his point clear and from that day on, the league has updated and provided its game stats on a daily basis rather than every three days.

Commissioner Paul Galop spoke of John's many contributions and how difficult it will be to replace him. But in reality, Paul said, "John can't be replaced."

There were many funny stories and the laughter was a healthy relief for the sadness that brought us all together. There were tears and hugs and choking up, but the evening was a memorable way to pay tribute to a person who will be sorely missed.

" We really needed this ( gathering)" commented Cotuit's assistant GM, Sue Pina, who spoke about assisting John with the Frank Finn Tryout held each year a week prior to the start of the season.

The two- hour memorial gathering ended with everyone in attendance facing the John Wylde Hall of Fame plaque on the wall and with glasses raised, I suggested the following toast,

"We cannot pay tribute to John in just one day. May this be the first of many days we pay tribute to this great man."