League News
03/19/2009 9:01 AM
Article By:
Cape Cod Baseball League Franchises
Y-D and Orleans Receive $150,000 Each
In Yawkey Grants for Field Improvements
The Yarmouth-Dennis Red Sox and the newly renamed Orleans Firebirds are the latest recipients of grants from the Yawkey Foundation to Cape Cod Baseball League franchises earmarked for field improvements.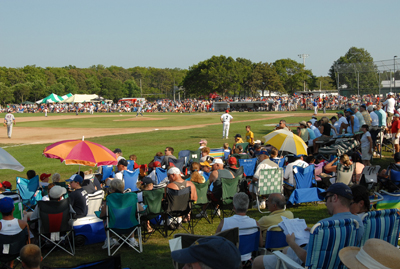 Red Wilson Field, YD Red Sox
The league's Field Improvements Committee announced today that it has been notified by the Yawkey Foundation that applications from the Y-D and Orleans organizations have been approved and each will receive $150,000 in matching funds targeted specifically for various improvements to Red Wilson Field in South Yarmouth and Eldredge Park in Orleans.

"We are absolutely delighted with the news of this, our fifth annual grant from the Yawkey Foundation," said Dick Sullivan, a Cape League deputy commissioner and chairman of the Field Improvements Committee. "These current projects approved for Yarmouth-Dennis and Orleans complete the cycle for the 10 Cape League teams, which have benefitted immensely from the support and generosity of the Yawkee Foundation," Sullivan said. He added that this year's $300,000 contribution brings to $1.5 million the total received by Cape League teams since 2005, when Bourne and Brewster accepted the first Yawkey grants which led to the creation of new ballparks in both communities.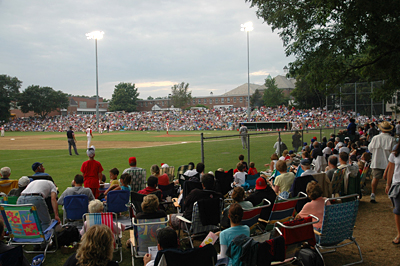 Eldredge Park, Orleans Firebirds
"Overall, we have seen new fields in Bourne and Brewster and will have seen dramatic field improvements in the other eight communities upon completion of these two latest projects," Sullivan said. "All of our playing fields are now of the highest caliber and are most fitting venues for the Cape League and the respective communities."

Y-D Red Sox General Manager Jim Martin expressed elation at the news that his organization's application for assistance from the Yawkey Foundation had been approved. "What we are about to undertake would have never been possible without the much-appreciated Yawkey Foundation matching grant," Martin said. "We plan to expend more than $315,000 on field improvements to Dennis-Yarmouth Regional High School's Merrill 'Red' Wilson Baseball Field in the next 18 to 24 months."

Martin recited a long list of field and facility improvement projects, including additional safety netting for the protection of Cape League fans and those attending high school and senior Babe Ruth games; resurfacing the infield, and erecting a 15-foot high chain link fence, which will enable the two adjacent softball fields to be used again by the school's girls team this season. These fields had been previously deemed unsafe.

Other improvements include the purchase and installation of 14 new sections of bleachers and the purchase of a Toro Sand Pro infield machine to assist the school's outside maintenance superintendent to maintain all of the baseball fields, including the two at the high school (varsity and junior varsity) and those at the Mattacheese and Wixon middle schools, plus additional beautification and landscaping at Red Wilson Field.

Martin said plans call also for the construction of a multi-purpose building which will feature food concessions, men's and ladies restrooms, laundry facilities, office space and additional storage space. "We have received a commitment from the Cape Cod Regional Technical High School to provide the necessary labor to erect and landscape this project," he said.

"We are most grateful to the Yawkey Foundation for their assistance. Y-D, being very sensitive to current school budget concerns, is extremely pleased that we have the ability to help in the maintenance of all the school district's baseball facilities during these very sensitive economic times," Martin concluded.

Orleans General Manager Sue Horton also expressed delight upon hearing of the Yawkey Foundation's decision. Of her organization's ambitious improvement plans for Eldredge Park, she said, "There is no way it could get done in the foreseeable future without the help of the Yawkey Foundation."

Horton said the ancient irrigation system built in 1968 will be replaced by a new system that will have its own well so it will not impact the town's municipal water. "The town had appropriated funds for this project," she said, "and Yawkey money will allow its completion."

Also on the list is resurfacing of the Eldredge Park infield and at the same time correcting its dimensions. The antiquated chain link backstop system will be removed and replaced by a new netting system, including a protective sideline netting system on the first base and third base lines to provide added safety for spectators and to cut down on the number of foul balls going across busy Route 28. The old dugouts, originally built in 1972, will be replaced by new, larger ones measuring 48 feet in length. The above-ground sections will be wood frame construction with a shed roof, white cedar shingles for the siding and red cedar trim to match that of the Bird's Nest and Home Plate Shop building.

Horton said the Birds Next building, which was built by the team in 2003, will be expanded slightly to create more space upstairs for broadcasters and more storage downstairs. The upper portion will be an open balcony, but the existing shed roof will be expanded to cover the open area. "Scouts will be welcome on the balcony as space allows," Horton said.

Additional improvements include a batter's eye in center field and netting to enclose the bullpens as another move toward increased spectator safety. Horton said these will be temporary structures which can be removed and stored in the off-season.

Joe Sherman, CCBL Public Relations Department ([email protected])