League News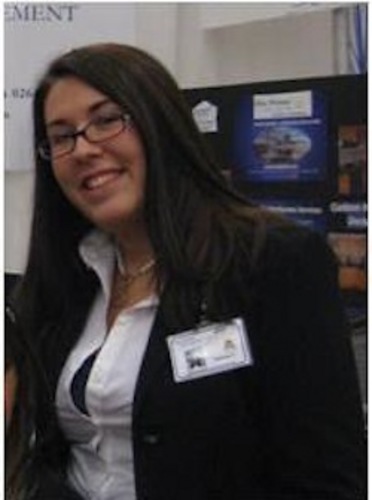 07/02/2013 6:59 AM
Article By:
Melissa Ellis feels the gravitational pull of the Cape. She was born here and has lived here all her life. Her father, Gary Ellis, is the former general manager of the Yarmouth-Dennis Red Sox and architect of the Cape Cod Baseball League Hall of Fame, so she grew up with strong ties to the Cape League.
As a kid, she used to run the 50/50 raffles, sell hot dogs, and her family housed players, some of whom, like Colorado Rockies infielder Jordan Pacheco, now play in the majors.
"For me, I always called it 'the brothers I never had,'" she said of her summers spent bonding with the boys, making grilled cheese sandwiches and playing guitar. "I'll never forget those memories. It's awesome to see these 'brothers of mine' succeed."
Ellis went to Keene State and majored in communications, and was interested in marketing and journalism. Even then, she returned home to the Cape every summer.
It was during this time that she wanted to further her involvement with the Cape League. When her dad presented her with the prospect of interning with league President Judy Walden Scarafile, she jumped at the opportunity. She worked on a wide array of projects, including organizing the then newly constructed Hall of Fame.
"I put my heart and soul into work; I always have," she said, even on those jobs that she admits she wasn't particularly fond of.
She applies this mentality to her current job: working as an office administrator for Cape Cod Young Professionals. According to its website, this nonprofit group presents the opportunity to connect "with a diverse group of community-minded individuals who call Cape Cod home and have a vested interest in the future of the region."
The organization's goal is not just keeping young people (what they consider to be 25- to 44-year-olds) to stay on the Cape, but to get young people to come to the Cape – something that studies indicate has shown a significant dropoff over the past decade.
Along with the many different types of events that it hosts, last year CCYP gave $24,000 in scholarships to eight recipients ages 21 and up "who are returning to school, training in a new profession or taking courses to develop their professional life on Cape Cod."
According to CCYP's 2012 Annual Report, revenue has more than doubled from business sponsors and increased by a factor of four from nonprofit sponsors from 2011, which indicates that there are many people like Melissa Ellis – a young professional herself at age 26 – who are dedicated to the youth movement on Cape Cod.
When she speaks of her current work with CCYP and her past with the CCBL, her intonation picks up. Motivating young people to stay on the Cape is something she feels passionate about. She views both organizations as great outlets for young people, and working with both as the merging of two loves.
"I've been looking at … being involved with the Cape League for a while, and I plan to stay involved. And then being a part of (CCYP), I find such ties between the two that I actually get excited when I talk about it. My hope, as a personal goal, is that I can tie the two (together), to help each other. They're both nonprofits, looking to thrive on the Cape, and they need that sponsorship from the community. It's (a matter of) how can I help get some of the people from my organization, CCYP, to the Cape League to help out? And maybe vice versa."
If there is anything to take from Ellis, it's that it's important to do what you love. From baseball, to the youth movement, to staying on the Cape, these are things that she is passionate about. How she has tied them together and found ways to give back is pretty inspiring stuff. It hasn't gone unnoticed by the people she works with, and their praise is all the payment she could ask for.
"When you do something you love, and people are appreciating you, that's all (you need). For me, who wouldn't want to keep giving and volunteering when everyone is being so appreciative?"
For more information about CCYP, please visit www.capecodyoungprofessionals.org.