League News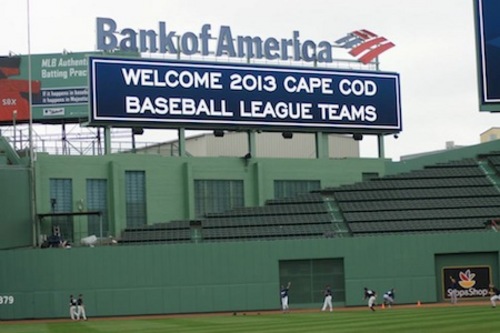 07/02/2013 7:20 AM
Article By:
BOSTON
–
It wasn't just another Monday at the park for the players and staff of the Cape Cod Baseball League. There were no games played, just BP and drills. And the park? Just the oldest park in the history of the major leagues.
The Cape League and the Boston Red Sox organization hosted their annual workout on Monday, July 1 at Fenway Park. Players from all 10 CCBL teams displayed their speed and batting for major league scouts, running the 60 in the outfield and then taking swings in the cage. Though the day was long, the heat oppressive and the threat of rain looming large over the day, it didn't stop anyone from having a wonderful day at one of the nation's great sporting landmarks.
During breaks, players took pictures and videos from the field. They posed for photos with the legendary Peter Gammons, who was there all day, watching the action from behind the cage. And of course, when they stepped up to the plate, like so many others, they attempted to conquer the Green Monster. It became a fun task for the players, staff and loved ones in attendance to track which players were able to launch one into or even over the high left field wall. Orleans had the most bombs with nine, five of those belonging to Zach Fish, who tied with Matt Gonzalez (Bourne) for most on the day.
"It was awesome," was a popular phrase amongst players when asked what it was like to take on the Monster.
It was a truly awesome moment, getting to watch these young players step onto the field at Fenway, most of them for the first time. Though the skies threatened to open up and disrupt the festivities, the rain never came. It was a great opportunity for the scouts to see so many young talents, for the families who house and care for these talented players as if they were their own, and for the players themselves, who may step back into that batter's box again one day.
It was around 3:05 p.m., after a long day shagging balls and sprinting and slugging had come to an end, when we were all thanked for joining the Red Sox and the Cape Cod Baseball League for coming out, when the skies opened up and the rain began to fall.