League News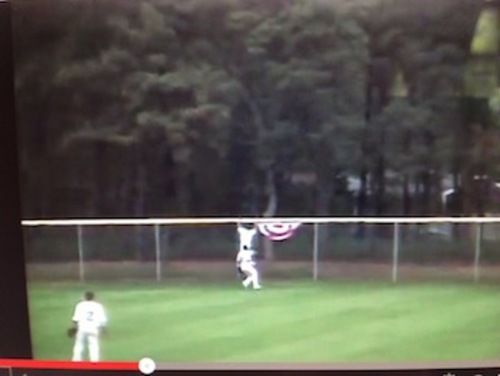 07/04/2013 12:06 PM
Article By:
Ken Griffey Jr. Torii Hunter. Endy Chavez. Mike Trout.
These are the names of players that will be forever linked to the home run-robbing catch. It's the kind of play that happens in an instant – that makes you marvel at the physicality, the precision, the timing – but it lives on in highlight reels and countdowns, slowed down and sped up, replayed again and again, as its legend grows.
You can add Y-D center fielder Brandon Downes to that list of players.
"It's been a pretty good week," Downes (Virginia) said from the Cape League annual workout at Fenway on Monday. Though rife with modesty, that might have been the understatement of the summer.
The catch in question came Friday, June 29, in a home game against Brewster. Though game time had been moved up a half-hour to beat the rain and the post-game fireworks ceremony scrapped, Downes' grab squashed the threat of what would have been a game-tying homer off Brewster infielder Trevor Mitsui. One strikeout later, Y-D beat Brewster 4-3.
With the way the ball carries at Red Wilson Field, Downes had a feeling the ball might be going out, but he continued to track it. Thinking he had a chance to catch it but not sure how close he was to the wall, he jumped and caught the ball cleanly, knowing he had it, but unaware he had actually robbed Mitsui of a home run. It was pure highway robbery.
"My glove hit the fence after it came back down, so I figured that … I caught it at the yellow part of the fence and that it didn't go out. When I saw that replay later that night, I was like, 'oh it was a couple of feet over.' I thought that was pretty cool."
It was pretty cool, not just for Downes or the fans in attendance, but also for ESPN. The play was ranked No. 6 on the "SportsCenter" Top 10 Plays of the Week. He was flooded with calls and tweets from friends later that night and the day after.
"My whole life I've been watching ('SportsCenter') … I thought it would be so cool to get on ESPN. I finally did. It was awesome."
With a play of the season-type catch ranking on "SportsCenter" and taking BP at Fenway now under his belt, Downes is simply awed by the week that he's had.
"It's awesome," he said of his experience at Fenway. "All of us were talking about trying to hit it over the Green Monster. It was just unreal … to come out here and play. It was a lot of fun."