League News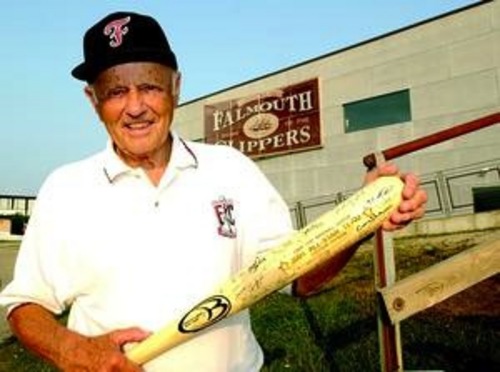 07/08/2013 6:43 PM
Article By:
The home field of the Falmouth Commodores boasts one of the more lengthy ballpark names in the Cape Cod Baseball League: the Arnie Allen Diamond at Guv Fuller Field. But in a location taking its namesake from such memorable people in the Falmouth community, there is one person who stands out on his own – Al Irish.
Irish is a lifetime member of the Falmouth Commodores' Board of Directors and the team's unofficial historian. From just plain old Falmouth back in 1925 to the All-Stars of 1946 to the Commodores of today, Irish has been there. He's been there from the Central Park at Falmouth Heights to the Arnie Allen Diamond. In fact, Irish could tell you all about Arnie Allen himself.
"If somebody needs to know a fact or an historical point certainly they turn to Al," Falmouth Commodores coach Jeff Trundy said. "Not only about Falmouth but about the league in general."
Irish moved to Falmouth in 1925 when he was 5 years old, just two years after the Cape Cod Baseball League officially formed. From that early age, he was hooked. Since going to his first Falmouth game with his grandfather, Irish has stuck with the Cape League, the Commodores and his love of baseball for 88 years.
"(Irish) knows how much work it takes in order to make (the CCBL) happen (each year)," Commodores Board of Directors member Cheryl Brennan said. "There's a lot that goes on in the Cape Cod Baseball League that's directly related to all of the work and the hours that Al put in for all those years with the CCBL."
Even when the league disbanded in 1939 and did not resume until after WWII, Irish kept his skills sharp by managing the Northeastern University baseball team while he pursued his degree at the same school. Irish graduated from Northeastern in 1942 and it was only a matter of time before he made his way back to Falmouth to support his favorite team.
"(Irish) is the person that's supportive whether or not we have a good game or a bad game," Trundy said. "He's always going to show his support and be there behind you and behind the kids."
To many, Irish's dedication and commitment to the team is the embodiment of the Falmouth Commodores.
"There is no one who is more Mr. Commodore than Al Irish," Commodores President Steve Kostas said. "His dedication and work for the team has been unmatched over the past several years."
At 93 years old, Irish might not make as many games as he used to, but he has left a lasting impression on the Commodores staff. And although there may be a new team each year, as the majority of players only spend one summer in the Cape League, Trundy hopes the players understand the impact Irish has had on the team.
"(With) Al Irish Evening coming up, hopefully they'll all have an opportunity to meet (Irish) and shake his hand and thank him for all that he's done," Trundy said. "He's just a great man and we've been very fortunate to have him as part of our organization."
Come and show your appreciation for Mr. Commodore himself, Al Irish, on Tuesday, July 9 at Guv Fuller Field in Falmouth when the Commodores face off against the Bourne Braves at 6:30pm. Pregame ceremonies will honor Irish's commitment to the team over the years.
Click
here
for a video of Trundy's interview about Irish.