League News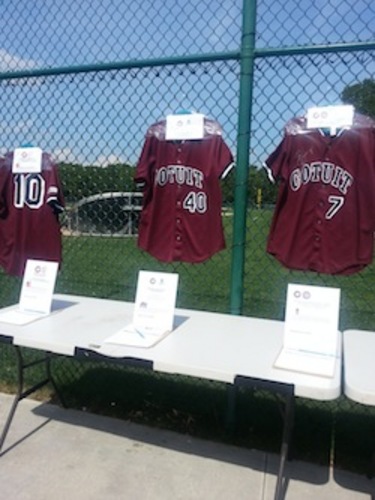 07/09/2013 1:08 PM
Article By:
It's time for the next phase of the Cotuit Athletic Association Capital Project to begin. The Cotuit Kettleers' organization has been in the process of renovating many parts of its field during the offseason. The kitchen at Lowell Park has been renovated and the restrooms rebuilt, and a trophy/memorabilia case has been added.
But they're only halfway there. After raising $300,000 for the first phase, that same amount is needed to complete phase 2, which includes new bleachers and two new dugouts.
Cotuit continued its fundraising efforts Saturday with a Sun-Up to Sun-Down Fun Raiser Festival. Proceeds from fundraising events are put toward design and construction as well as installation of the new accommodations. "We hope to have a majority if not all of it pledged by the end of August so that the newly designed stands can be built," said Kettleers field manager Mike Roberts.
Events were planned throughout the day at Lowell Park, including yoga, Cross-Fit, Spinning and more. People made it to all the workouts, and four people even stayed for all three stationary bike classes, trekking the equivalent of nearly 70 miles.
There were Wiffle ball games and slip-and-slide for youngsters as well as kickball in the outfield. Others took a chance at the radar gun to test their pitching arms. Those attending the event could participate in a silent auction that lasted throughout most of the day before the Fun Raiser ended with a talent show and dance.
Perhaps the only downside was the hot, humid weather, as Saturday's temperatures reached the mid-90s to register the hottest day in Cotuit. Roberts said the heat likely hindered participation.
"I think we've learned a lot about things we would adjust going into the next year," he said. "It probably will be condensed, it probably will be on a game day in the future."
The biggest concern for Cotuit was whether to hold the event on a day in which everything would need to be packed up in time to accommodate a home game. Learning curve aside, Roberts said the organization received many compliments throughout the day.
"By doing these type things, you meet so many nice people, and people who want to help you," Roberts said. "By going through the silent auction and just coming up and donating, I think it's a really positive situation for the Cotuit Kettleers and Cotuit and the surrounding community."