League News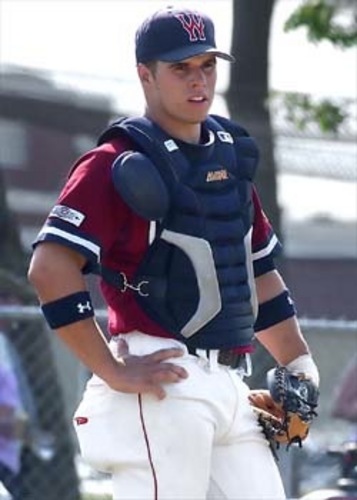 07/09/2013 3:38 PM
Article By:
When Josh Phegley slipped into his White Sox uniform for the first time on July 5 at Tropicana Field in St. Petersburg, Fla., he knew he would be making his major league debut that day as Chicago's starting catcher against the Tampa Bay Rays.
But the former Wareham Gateman had no idea he would also be entering the Cape Cod Baseball League record books.
Just summoned from Triple-A Charlotte, Phegley was more concerned with making sure that his parents had arrived safely in Florida from their home in Terre Haute, Ind., and were in the stands to see their son play in a big league game for the first time.
When Rays starter Jeremy Hellickson delivered the game's first pitch, a called strike to White Sox leadoff hitter Alejandro De Aza, it was official. The rookie catcher's name would be in the box score, officially making him the 1,000th Cape Leaguer to play in the major leagues.
Phegley's first MLB at-bat came leading off the third inning. He struck out swinging on three straight pitches. In the top of the fifth, Phegley batted third, following two other former Cape League All-Stars whom he played against in 2007 – Conor Gillaspie (Falmouth) and Gordon Beckham (Yarmouth-Dennis). Beckham doubled to left on a 2-2 pitch after Gillaspie had popped out to third. Phegley took two pitches out of the strike zone, fouled off a third, then singled to right, scoring Beckham for his first big league RBI.
A swinging strikeout by Phegley ended a 1-2-3 seventh inning after Gillaspie grounded out to second and Beckham fouled out to shortstop.
With Tampa Bay leading 8-1 in the ninth, the White Sox staged a too-little, too-late rally. Four straight hits, including singles by Gillaspie and Beckham, brought Phegley to the plate. He hit the first pitch he saw from reliever Cesar Ramos to center for his first big-league sacrifice fly and his second RBI of the game. Up came another 2007 Cape Leaguer, recently acquired Blake Tekotte (Brewster), who hit into a fielder's choice that sent Gillaspie to third and Beckham to second. De Aza ended the game by grounding out to second and Phegley's memorable day ended in an 8-3 loss, even though he had driven in two of his team's runs.
On Sunday, Phegley recorded his first major league home run off Rays ace David Price. Ironically, former Vanderbilt ace Price had been on Wareham's preseason roster twice, but chose to play instead for the U.S. National Team.
Phegley started the 2007 Cape League season as Wareham's catcher after his freshman year at Indiana University. He earned a starting spot for the Western Division in the Cape League All-Star game, but medical issues prevented him from playing in the game, which took place at the Gatemen's home park, Clem Spillane Field. "I was driving him to Fenway Park for the workout day, when he suddenly took ill," recalls Wareham field manager Cooper Farris. "He was hospitalized and underwent an emergency appendectomy," which ended his season.
He finished with a .269 batting average and five doubles in 22 Cape League games.
Farris remembers Phegley as a hard-nosed, hardworking player. "He was a dirt dog," the veteran Gatemen skipper said. "He wasn't afraid to get down and dirty."
The White Sox chose Phegley with the 38th pick in the 2009 MLB First-Year Player Draft after three solid years at Indiana, where he hit .353 with 39 doubles, three triples, 32 home runs and 162 RBIs.
In five minor league seasons that spanned 379 games, Phegley batted .263, with 82 doubles, 44 home runs and 204 RBIs, advancing quickly through low Class A Kannapolis, Rookie League Bristol and high Class A Winston-Salem before being sent to Double-A Birmingham in 2010. Returning to Birmingham in 2011, he was hitting .292 after 18 games when he was promoted to Triple-A Charlotte, where he remained until joining the White Sox. When he got the call to the majors, he was hitting .316 with 18 doubles, one triple, 15 home runs and 41 RBIs in 61 International League games.
For the record, the player who preceded Phegley at No. 999 on the all-time CCBL-MLB list was switch-hitting outfielder Joey Terdoslavich (Chatham, 2009), Atlanta's sixth-round selection out of Long Beach State in the 2010 draft. Terdoslavich joined the Braves on July 4 and debuted with a strikeout against Philadelphia as a pinch-hitter. The next night, he made the most of his second chance as a pinch hitter when he faced Phillies closer Jonathan Papelbon. With two outs in the ninth inning, he lined Papelbon's first-pitch fastball into right field for a single.