League News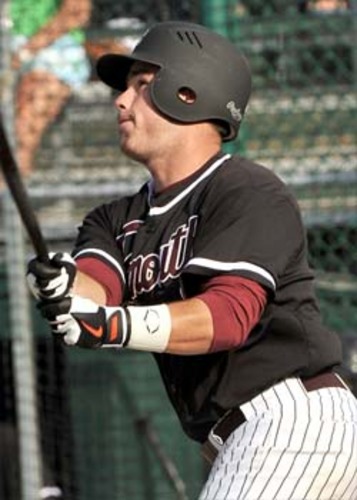 07/14/2013 8:35 PM
Article By:
Joining a team during the middle of the season can be difficult, and for some teams and players, the transition is easier than others. Some athletes go to Team USA, some are released, and others arrive late from the College World Series.
Falmouth's Dylan Davis (Oregon State) made it to the Final Four in Omaha before the Beavers lost to Mississippi State in the quarterfinal. Even though he's only been on Cape for a couple of weeks, he said he has felt like a part of the team from the start.
"Falmouth's been great," Davis said of the team and community. "A lot of the guys have welcomed me like I've been here the whole year, and it feels like a big family already and it's been a lot of fun."
And the Commodores are glad to have him. Manager Jeff Trundy has coached Oregon State athletes before, with several players coming from the school. Trundy said he has always enjoyed having players from that college on his team, and similarly has been pleased with Davis' performance so far this season.
"He's a quiet, competitive kid," Trundy said. "Dylan is just another Oregon State guy that's come in here and proven to me that those kids once again appreciate the opportunity and are very competitive in the process."
Davis played for Brewster last season, hitting just .226 with one home run and four RBIs. Though he enjoyed his time with the Whitecaps, he's also having fun in Falmouth. "I think Falmouth does it right," he said. "I'm clicking with the guys, having a good time with the coaches. I'm getting a lot better. My host family's great, the town's great. They support us a lot."
Falmouth fans have a lot to be happy about this season. After finishing the 2012 summer with a 21-23 record, the Commodores now sit tied for second in the Western Division with a 15-9 record on the season. "The whole team, we have great chemistry, and I think that's why we're playing pretty well and having a lot of fun together," Davis said.
The outfielder/pitcher's performance has also improved since coming to the Commodores. In just nine games this year, Davis is hitting .400, has 17 RBIs and has five home runs. His five homers put him in a three-way tie for first in the category.
While it's hard to deny Davis' power at the plate, Trundy said his player is also a great person and teammate.
"He's a very, very good hitter so it's fun for me to be able to watch him every night," Trundy said. "Even though he was a late arrival, he fit in quickly and it was more than just swinging the bat, it was the kind of person he was. It's always the team first and Dylan second."
Davis struggled at the plate in the CWS, going 3-for-15 in Oregon State's four tournament games. "I think I could've played a lot better in Omaha," he said. "But I used it as a learning situation. I think Omaha really opened my eyes to playing in front of a lot of people and big situations, trying to stay calm, trying to stay focused, staying within yourself and not trying to do too much."
Those paying attention know Davis' slump turned around quickly since his arrival in Falmouth. But even though he's been hot at the plate, Davis knows he can still improve on numerous of aspects of his game. "A lot of stuff defensively, going to balls on my right," he said. "I have to get better that way attacking balls and (at the plate) really using the opposite field."
For now, Davis is just playing in the moment with the Commodores. "I want to be lifelong friends with these guys, you know stay in contact with the rest of the coaching staff and have fun and hopefully win the whole thing," he said.
"I want to help the rest of my teammates here get better and I'm sure they want to do the same for me. It's a growing situation. I'm really excited and really fortunate to be in Falmouth this year."