League News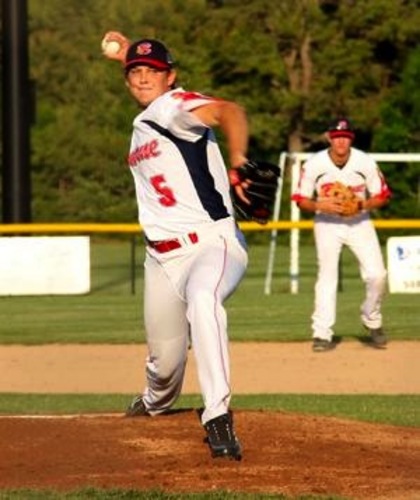 07/24/2013 3:40 PM
Article By:
A weekly list of the top six performers of the 2013 season:
With the All-Star rosters announced and the midsummer classic only days away, the league's elite have been recognized and now it comes down to determining the best of the best.
It was a big week for pitchers, as several big names had strong outings and others their first real lapses. It has left the elite pitchers as a much more homogenous group, except for one true standout. Meanwhile, offense has become all about consistency. Those at the top have stayed there, and others who have been on the verge of stardom are breaking through. Believe it or not, next Wednesday is the day last of the season. Play ball: It's do or die time.
Rhys Hoskins (Sacramento State)
Outfielder, Falmouth Commodores
.321 BA, 30 R, 30 RBI, 5 HR, 2 SB
Comparatively, Hoskins had a down week. But a down week for Hoskins this summer is a good week for most other players. He batted just .231 with three runs scored, but drove in six runs, including a two-run homer. Hoskins can afford a down week, even in the midst of the stretch run, because he has been so consistent all season. He's still the league leader in RBIs and runs scored, and is tied for second in home runs, just one off the lead. His .321 batting average is solid, good enough for top 10 in the West. Only three players had both 30-plus runs and 30-plus RBIs in 2012, and none did the two years prior, yet Hoskins has already achieved that mark. Top league honors appear to be his to lose at this point.
Jaron Long (Ohio State)
Pitcher, Bourne Braves
28 IP, 5-0, 0.32 ERA, 23 K, .75 WHIP
There are a lot of good pitchers on the Cape right now, and nearly every team has an ace on the staff. Orleans' Trent Skzutnik (Michigan), Harwich's Aaron Bummer (Nebraska), Chatham's Lukas Schiraldi (Texas), Brewster's Justin Kamplain (Alabama), YD's Erick Fedde (UNLV), Hyannis' Kyle Freeland (Evansville), and Cotuit's Chris Ellis (Ole Miss) have all been pitching extremely well all season long. But none has quite matched up with Long, the only starting pitcher who hasn't had a single bad start all summer. He leads the league in wins, ERA and WHIP, and has allowed just one run on 17 hits and four walks. On average, Long throws 5 2/3 innings per start, allowing four baserunners and striking out five. That is the epitome of dominance. The Braves are the hottest team in the West, and if they manage to keep it going and leapfrog the logjam at the top of the standings, then Long would have to be seriously considered for league honors.
Max Pentecost (Kennesaw State)
Catcher, Bourne Braves
.386 BA, 15 R, 26 RBI, 5 HR, 4 SB
The thunder to Long's lightning, Pentecost has been the main source of offensive firepower for a Bourne team that went 4-2 this week and is within striking distance of the three teams ahead of it in the division. With Cotuit's Mike Ford (Princeton) signing with the New York Yankees, Pentecost has taken over the lead in the batting title race with an outstanding .386 average. He is also second in on-base percentage, tied for second in home runs and is third in RBIs. Pentecost appears to be the only player keeping the Falmouth Commodores from running the tables on all the offensive categories.
Dante Flores (USC)
Infielder, Chatham Anglers
.363 BA, 23 R, 16 RBI, 1 HR, 2 SB
The leader of the Chatham Anglers has been producing at a high level all summer long and has been a big reason for the team's rise to the top of the league. While he isn't a huge power threat, he has an impeccable knack for getting on base and scoring. He's the league leader in extra-base hits and the East leader in slugging percentage, thanks mainly to his league-leading 12 doubles. He's also third in runs scored and fourth in batting average and on-base percentage. The Anglers have won eight of their last nine and are coasting to the Eastern Division title. Flores seems to contribute in each and every game.
Skyler Ewing (Rice)
Catcher, Hyannis Harbor Hawks
.337 BA, 15 R, 19 RBI, 4 HR, 3 SB
It's become impossible to ignore the production of Ewing this season for the West-leading Hawks. Heading into Wednesday's action, Hyannis was tied with Cotuit for the Western Division lead. This would almost certainly not be the case if it weren't for the Harbor Hawks' star catcher. The Hyannis offense is the third worst in the league, but would be worse without Ewing, who drives in about 20 percent of the team's runs. Ewing leads the league in slugging percentage, and is in the top 10 in batting average, RBIs, home runs and on-base percentage. If Hyannis ends up winning the division, it will be on the back of Skyler Ewing, and there's nothing more valuable than that.
Kevin Cron (TCU)
First Base, Falmouth Commodores
.347 BA, 21 R, 27 RBI, 4 HR, 7 SB
Cron had an enormous stretch two weeks ago before virtually disappearing last week. But he's back with a vengeance. Cron has a .429 batting average this past week with six RBIs for the Kettleers, who went 3-2 during that stretch. He was a big contributor in blowout wins over Hyannis and Brewster. He remains a presence at the top of nearly every offensive category. He's second in RBIs, tied for second in extra-base hits, second in the West in batting average, and is in the top 10 in home runs and runs scored. Cron should continue to produce at a high level, but the real question is whether he surpass Hoskins as the leader of the Commodores' juggernaut offense?
Dropped out from Week 5:
*Mike Ford (Princeton), Cotuit
Aaron Bummer (Nebraska), Harwich
*signed with Yankees