League News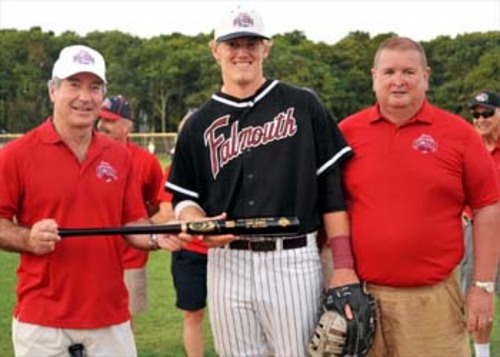 07/27/2013 7:18 PM
Article By:
SOUTH YARMOUTH, Mass. – Solid hitting has been a constant for the Falmouth Commodores this season. So has success. First baseman Kevin Cron (TCU) showed evidence of both during the 2013 Friendly's Cape League All-Star game on Saturday, giving him the West Division's Most Valuable Player nod.
The first baseman played the entire All-Star game, and said he was plugged in from the start. "I'm not gonna say no, for sure," he said. "It just worked out there was no other players to play first base. Casey (another Falmouth first baseman) was DH'ing the whole game, so it worked out, I got lucky I guess."
Cron took advantage of his opportunity, going 1-for-4 with two RBIs. The first came on a fielder's choice in the first inning to drive in Cotuit's Jake Fincher (N.C. State). He knocked in his second run on a double down the left-field line to bring in teammate Dylan Davis (Oregon State).
Instead of feeling the pressure, Cron looked to his older brother, a former Cape League standout. CJ Cron played with the Cotuit Kettleers in 2010, but Cron said he didn't feel too pressured by his big brother's accolades. "If anything it helped," he said of his brother's experience. "He let me know just to play like any other game and to go and have fun because it's an experience you'll never forget. If anything it took some pressure off."
With so many talented players in the game, Cron was surprised by the MVP honor. "You never really expect it in that type of game," he said. "Everyone went out and played hard but a ball fell for me more than once, but it was fun."
The 6-6 junior had a great night playing with friends and new teammates. "It's an experience we're going to remember for a long time together," he said. "It made it feel like home." Cron had the pleasure of starting the game with five other Commodores, and playing with a total of six teammates throughout the game.
There are players from other teams he's enjoyed getting to know as well. "It's also nice to meet some of the other guys and see what their backgrounds are and hang out with a bunch of people."
Cron spoke of Ross Kivett (Kansas State) of Orleans. Both play in the Big 12, and he has enjoyed getting to know him better this the summer. "If you see someone you play against, it's nice," Cron said. "You want the conference to have success. Even though he's not on my team up here, it's awesome to build that fraternity."
Falmouth was well-represented in the game. "We've gone out we've all had really good seasons," Cron said of the Commodores this season. "We've gone out and played really hard. Everyone works really hard. To be honored with six All-Stars is truly a blessing." Cron is hitting .339 on the season with four home runs and 27 RBIs.
Teammate Casey Gillaspie (Wichita State) said in an All-Star questionnaire passed out to players that his favorite memory as a fan has been watching Cron play on the Cape this season. Cron laughed but was pleased about his teammate's comments. Cron said many people even consider them twins, and often ask if they knew each other before playing on the Cape.
"He's become one of my really good friends," Cron said. "We love to build each others confidence and talk each other up."
Cron was able to watch Gillaspie and cheer him on in the Home Run Hitting Contest. "I was almost looking forward to that the most," Cron said. "He hit the ball really hard." Gillaspie had five homers in the first round.
Cron has become a fan of his teammate as well. "Being able to watch him every day in batting practice with his work ethic and put that on display for fans and scouts is really cool," he said.
Looking ahead, Cron wants to continue playing with his teammates as long as he can and put the team's main goal, winning a Cape League championship, above everything else. "We're so close-knit, we don't want our season to end," he said. "We really respect Coach (Jeff) Trundy and want to be that team to go down in history and win it for him."