League News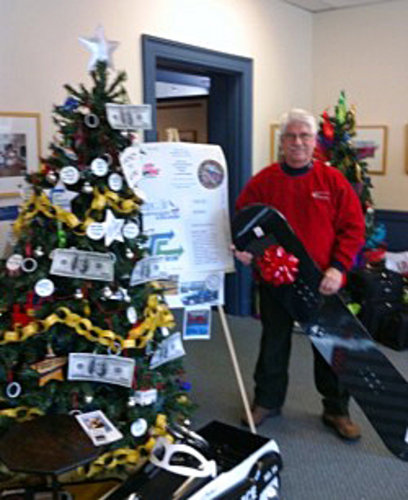 12/14/2011 4:13 PM
Article By: CCBL Public Relations Office
Who is that guy snowboarding down the slopes of Blue Hills Ski Resort?

Look at that First Student four-hour Bus Tour. It's chock full of Bourne Braves fans from a certain Sagamore Beach neighborhood en route to a Braves' away game.

Isn't that guy pedaling his bike along the Canal en route to a Bourne Braves CCBL game the same guy we saw at Blue Hills Ski Resort?

Wait, isn't that guy boarding the Hy-Line Cruise to Martha's Vineyard one and the same?

Hey, there he is again stepping off a Cape Air Flight onto the tarmac at Nantucket Memorial Airport. Now he's taking a trip on the Cape Cod Central Railroad.

What's up with that?

Don't be alarmed, it might be that same guy.

That's because Tom Fink, president of the Bourne Braves, was the winner of the Cape Cod Baseball League's entry in the Spectacle of Trees and those modes of transportation which were part of the "Ticket to Ride" theme of this year's sixth annual fund-raising event at the JFK Hyannis Museum.

While Fink gets to take advantage of the spoils of his winnings, the CCBL sends out a special "Thank You" to Diane Troy, who created this spectacular tree valued at $3,000. Thanks also go out to Kim Wolfe, Peg Rose and Steve Faucher who assisted with certificates and volunteering at the Wreath party.

The League is also grateful to the sponsors: Cape Cod Regional Transit Authority, Hy-Line Cruises, Cape Cod Central Railroad, Cape Air/Nantucket Airlines and First Student Bus Company.