League News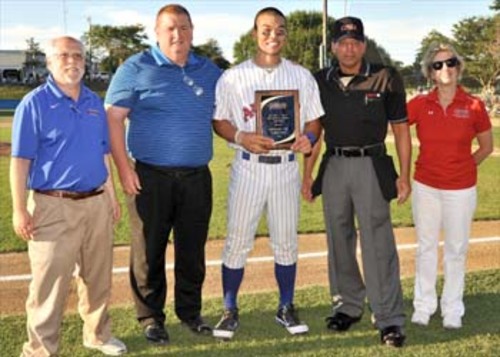 08/07/2013 1:38 PM
Article By: John Garner Jr.
CHATHAM, Mass. – After leading the Chatham Anglers to the best record in the Cape Cod Baseball League, catcher-first baseman Connor Joe (San Diego) is 2013 recipient of the Daniel J. Silva Award for Sportsmanship.
Selected annually by the Cape League's umpiring staff, the Silva Award is named for the first modern-era Cape League commissioner, a member of the inaugural CCBL Hall of Fame class in 2000. Introduced in 1973, it honors a player who exemplifies sportsmanship both on and off the diamond.
"I'm honored to accept the Cape League's sportsmanship award and appreciate the umpires who selected me," said Joe, who paced the Anglers to a 26-17-1 regular-season record. "I've tried to respect the game and enjoyed playing this summer on the Cape and learning many aspects (of the game) with the Chatham Anglers organization, coaches and teammates."
Joe batted .308 in 40 regular-season games and collected 45 hits, including nine doubles, a triple, three home runs and 22 RBIs. He also stole six bases for the Anglers, who led the Eastern Division standings for nearly the entire summer. The hard-hitter also played in the CCBL All-Star game, collecting two walks and scoring a run.
During the college season, Joe batted .319 with seven homers and 43 RBIs for San Diego, leading the Toreros to a 37-25 record.
The Poway, Calif., native is the fifth Chatham player to win the coveted Silva Award, joining Pat Ottavinia (1993), Jim DePalo (1986), Russ Quetti (1977) and Joe Gurascio (1976).
Present-day big leaguers who preceded Joe as Silva Award winners include Cleveland Indians first baseman Matt LaPorta (Brewster, 2006) and Houston Astros first baseman Carlos Pena (Wareham, 1997). Former Red Sox second baseman Lou Merloni (Cotuit, 1992) and Minnesota Twins/Houston Astros second baseman Steve Lombardozzi (Falmouth, 1980) are former major leaguers who received the honor.