League News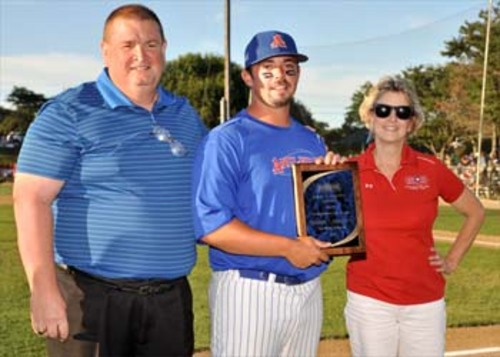 08/07/2013 4:09 PM
Article By:
CHATHAM, Mass. – Not to be overlooked among several awards given to the Chatham Anglers and their players on Tuesday night was the John Claffey Award, which is given to the top Cape Cod Baseball League player from New England. This year's recipient was Tommy Lawrence, a native of West Haven, Conn., who attends and plays baseball at the University of Maine.
Lawrence began the season working out of the bullpen for the Anglers, and did a masterful job. He picked up two wins during a stretch of 8 1/3 perfect innings in late June and early July, in which he allowed no hits and struck out nine. His WHIP as a reliever was a stunning .350. The dominant run continued even as he was converted to a starter, in which he tossed 12 scoreless innings in his first two starts, with nine strikeouts and no walks. Lawrence finished the regular season 3-0 with a 1.58 ERA, and had racked up 23 strikeouts and walking just one in 28 1/3 innings.
After sitting out the 2012 college season after transferring to Maine from Winthrop University, Lawrence was back at it this spring. He lead the Black Bears in nearly every pitching category in his first season with the team, racking up 11 wins and 78 strikeouts in 104 2/3 innings pitched, including six complete games. His ERA on the season was 2.32.
As Lawrence enters his second year of MLB draft eligibility, it is a near certainty that he will not be passed over again. After a strong year at school and an award-winning season with the Chatham Anglers, New England's top prospect has all eyes upon him now.