League News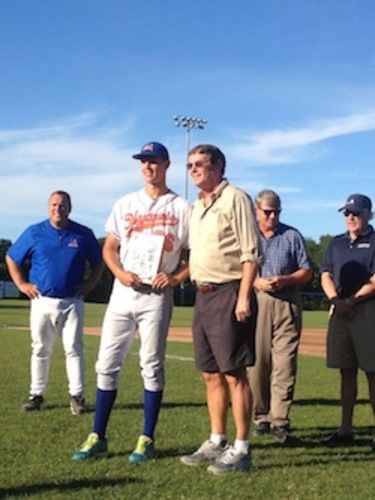 08/08/2013 1:10 PM
Article By:
Closing out games is what Eric Eck does best. Whether it's for the Cape Cod Baseball League or for Wofford College, he has accepted the call and settled into the role quite nicely. So it was only fitting that the Hyannis pitcher be named the Russ Ford Top Relief Pitcher of the 2013 season. Eck finished the regular season with a 2-1 record and 10 saves in 16 appearances for the Harbor Hawks.
"I feel absolutely phenomenal," Eck said of the achievement. "I really wouldn't have thoughts of achieving being the best reliever on the Cape, and just to get that honor feels really amazing."
"I feel really honored because I know there are a lot of incredible guys out there, and probably guys that may have (flashier) stuff than I do, but at least I've been getting the job done."
The All-Star hurler's most impressive performance of the season came June 24against Falmouth. In that outing, he struck out two in two innings of one-hit, scoreless ball to pick up the win, walking just one. From July 2-15, he went on a tear, converting five straight save opportunities and 6 2/3 innings without giving up an earned run. He admitted that he relishes the feeling of being called upon to close out a game.
"The excitement of knowing I get to go in there and just shut the door on the other team … and just give them no chance. It's a great feeling to go out there and know that if it's close at the end I'm getting the ball and it's my job to shut it out."
Eck confounded batters during his 2013 campaign at Wofford as well. As a junior, he went 1-3 with 10 saves and a 2.80 ERA. In 26 appearances for the Terriers, he held batters to a 2.05 average. He feels fortunate he was able to carry the success he had in that role from his year at Wofford into his time with the Cape League.
"People trust me, so it makes it easier for me to feel confident going out on the mound, knowing if they trust me then I should have trust in myself. It feels great to be a big part of the team like that."