League News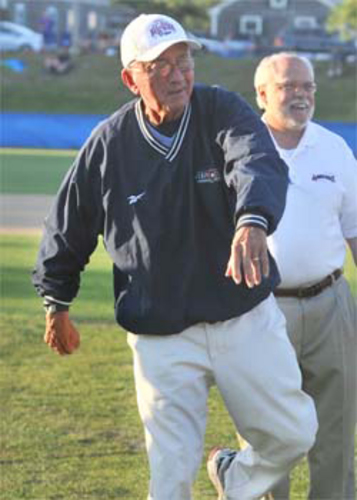 08/10/2013 7:20 PM
Article By:
CHATHAM, Mass. – The host Chatham Anglers honored one of their heroes and a Cape League pioneer, Dick Sullivan, before Saturday night's Game 1 of the Cape Cod Baseball League's Eastern Division championship series. Sullivan also threw out the ceremonial first pitch.
Sullivan, a 2002 inductee into the Cape League Hall of Fame, is the only person to have served as both the president and commissioner of the league.
"There is no one who has contributed more to the success of this league," Cape League president Judy Walden Scarafile said.
Sullivan's influence stretches far beyond the Cape League. Sullivan is a member of the inaugural class of the Cape Cod Senior Softball Hall of Fame and played for 22 years. He also served as the Dean of Students at both Hofstra University and Cape Cod Community College.
His service to the community cannot be understated. Sullivan, founder of the Cape and Islands chapter of the March of Dimes, has been honored by numerous organizations, most namely United Way Citizen of the Year and the Chatham Rotary Club Person of the Year.