League News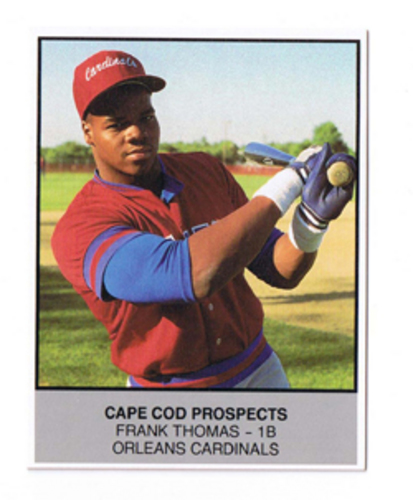 01/08/2014 8:08 PM
Article By: John Garner Jr.
Slugging Frank "Big Hurt" Thomas became just the third Cape Cod Baseball League alumnus voted into the National Baseball Hall of Fame in Cooperstown, N.Y., joining Harold "Pie" Traynor (Falmouth, 1919) and Carlton Fisk (Orleans, 1966).
Thomas, voted into Baseball's Valhalla along with former Atlanta Braves 300-game winning pitchers Greg Maddux and Tom Glavine on Wednesday, played for Orleans in 1988 and led the Cardinals to the Cape League championship series, where they lost to Wareham, two games to one, led by Mo Vaughn and league batting champion Chuck Knoblauch, who hit .361 for the Gatemen.
"I know Orleans Cardinals/Firebirds family and fans are celebrating Frank's selection to the Baseball Hall of Fame," said Orleans general manager Sue Horton. "Carlton (Fisk) was here such a short time and he doesn't really acknowledge he was here, so we're thrilled to have a Cardinal in Cooperstown.
"I remember the amazing Class of '88 and have one of those coveted baseball card sets, and when old-timers get together, there are always stories from that year that get told. Frank had a wonderful friendship with his host family, the Marinos, and tickets were always waiting for them at Fenway whenever Frank was in town; it wouldn't surprise me if members of the family are at the induction."
The Big Hurt got off to a slow start power-wise during his summer in Orleans, but caught fire when the Cape Cod summer heated up in August.
"When Frank Thomas played for Orleans, he had a habit of giving pitchers the inside corner because he didn't want scouts to see he couldn't get the wood bat around quick enough on an inside pitch," said former Orleans pitching coach Tom Yankus. "As a result, this heralded power hitter from Auburn couldn't hit the long ball in hitter-friendly Eldredge Park and had only one home run as the last week of the regular season approached. Then, on an early August night in Wareham, Frank put on one of the greatest displays of raw power that Cape League observers had ever seen.
"Frank's college buddy, Bo Jackson, was scheduled to come to Boston the next day with the Royals, and Frank decided to finally unveil the weapon Bo had given him before the season, a black Louisville Slugger with Bo's name chiseled onto the barrel. All season, Frank kept that bat wrapped in white tissue paper in its long, thin cardboard container. He never used it for fear it would break on one of those inside pitches.
"But with Bo at Fenway and Frank heading up to see him after the Wareham game, he knew he could get another bat from Bo if necessary. So at Wareham's Clem Spillane Field, he unwrapped the tissue paper, folded it, set it on the bench and drew out THE BAT.
"Wareham's field would never be confused with a bandbox. It was more like an airport. Its dimensions were 350 in left, over 450 in center, and 370 in right. On this particular night, it would not have mattered if the fences were halfway to Onset Beach because this was Frank's night to quiet all the naysayers.
"In his first at-bat, Frank launched a missile far over the left center field fence and the football bleachers. The second at-bat, he pulverized a fastball that cleared the center field fence and disappeared into the mist. The third at-bat, he gave the Wareham right fielder a closeup view of a space shot headed into the darkness. He did not move an inch as he craned his neck in admiration.
"It was indeed a night to remember. Thank you, Bo."
A two-time AL MVP, Thomas hit .301 with 521 homers and 1,704 RBIs in 19 seasons with the Chicago White Sox, Toronto and Oakland. He was inducted into the inaugural Cape League Hall of Fame in 2000.
Thomas was part of a Cape League crop that produced an all-time record 40 future major leaguers in 1988, including 15 players who lasted 10 years or longer in the big leagues. Five players from that year eventually slammed at least 300 career homers, including Thomas who tied fellow Hall of Famers Ted Williams and Willie McCovey for eighth place on the all-time MLB home run list.
Former Yarmouth-Dennis catcher-infielder Craig Biggio (Y-D, 1987) fell two votes short in one of the closest votes in baseball history. Biggio received 427 votes and 74.8 percent, matching Nellie Fox in 1985 and the hard-hitting Traynor in 1947 for the smallest margin to just miss.
Biggio appeared on 388 ballots in his initial appearance last year and appears to be on track to gain election soon.
Maddux was picked on 555 of 571 ballots and his 97.2 percentage was eighth highest in history. Glavine appeared on 525 ballots and received 91.9 percent, while Thomas, the first Hall of Famer who spent the majority of his career as DH, was on 483 ballots.
The trio will be inducted in Cooperstown on July 27 along with managers Bobby Cox, Joe Torre and Tony La Russa, elected last month by the expansion-era committee.
Maddux and Glavine played under Cox for most of their careers and join former Philadelphia A's pitchers Eddie Plank and Rube Waddell (elected 1946) as the only pitching teammates elected to the Hall in the same year.
Writers had not elected three players in one vote since Nolan Ryan, George Brett and Robin Yount in 1999 in another slam dunk voting.
Eighth on the wins list with a 355-227 record and a 3.16 ERA over 23 seasons, Maddux won four consecutive Cy Young Awards from 1992-95 and a record 18 Gold Gloves with the Cubs, Atlanta, Dodgers and San Diego. An eight-time All-Star, he won at least 13 games in 20 straight seasons as a model of consistency.
Among pitchers with 3,000 innings whose careers began in 1921 or later, Maddux's 1.8 walks per nine innings is second only to Robin Roberts' 1.73, according to STATS.
Glavine, a 10-time All-Star and a two-time Cy Young winner, was 305-203 over 22 seasons.
The league's Most Valuable Player in 1988 was Brewster first baseman David Staton, who hit 16 home runs to tie Tim Teufel (1979) for second place for the single-season home run record (Corey Snyder has the record, hitting 22 in 1983 for Harwich). Wareham's John Thoden, who went 9-1 with a 2.43 ERA, won Outstanding Pitcher. The league's Outstanding Pro Prospect and Batting Champion was Noblauch.