League News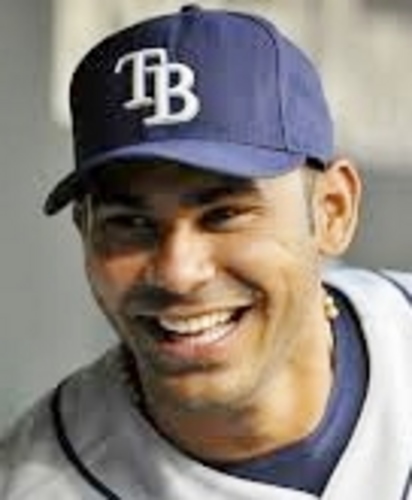 01/29/2014 11:48 AM
Article By:
Carlos Pena (Harwich, 1996; Wareham, 1997) has played for eight teams in a 13-season big league career, along the way collecting 1,138 hits, 285 home runs and 816 RBIs, winning a Gold Glove (2008) and a Silver Slugger (2007) and playing in the 2009 All-Star Game. The 35-year-old Cape League Hall of Famer (class of 2003) believes there are many more hits remaining in his bat and he hopes to prove it this coming season with the Los Angeles Angels of Anaheim.
The Halos signed Pena to a minor league deal yesterday (Tuesday, Jan. 29) and invited him to spring training, where he will compete for a job as backup to both first baseman Albert Pujols and designated hitter Raul Ibanez.
Pena appeared to be nearing the end of his career last season when he hit just .207 with eight home runs in 89 games for the Houston Astros and the Kansas City Royals, a far cry from his glory days in Tampa Bay, where each season from 2007 to 2009, he hit 31 or more home runs and drove in at least 100 runs.
Released by the Astros last July, Pena was picked up by the Royals in August. He got into only four games for Kansas City, striking out three times in as many plate appearances, and was cut loose by the Royals at season's end. He has been a free agent in search of a job since Oct. 31.
In 2007, Pena enjoyed the best season of his career, batting .282, belting 46 homers, driving in 121 runs and reaching career highs in hits (138) and bases on balls (103). For his efforts, his fellow players voted him Comeback Player of the Year in the American League.
Pena, whose family moved to Massachusetts from the Dominican Republic when he was a small child, is a graduate of Haverhill High School and starred in baseball at Northeastern University. His break-out season at Wareham in the Cape League in 1997 (.318 average, 33 RBIs, eight home runs) earned him the Pat Sorenti Award as the league's Most Valuable Player and the Daniel J. Silva Award for Sportsmanship. It also led to the Texas Rangers making him their first-round draft choice (10th overall) the following June.
The affable slugger was a September call-up in 2001, making his big league debut on Sept. 5. He performed well in 22 games for the Rangers, but was traded to the Oakland Athletics in January 2002, then by the A's to the Detroit Tigers at mid-season. In 427 games with the Tigers over four seasons, Pena batted .244, hit 75 home runs and collected 212 RBIs. Released by the Tigers during spring training in 2006, he signed as a free agent with the New York Yankees, but never appeared in a game for the Pinstripes and was released on Aug. 16. The next day, he was picked up by his hometown team, the Boston Red Sox.
Pena appeared in 18 games for the Red Sox, contributing two doubles, one home run and three RBIs. Boston granted him free agency on Oct. 13 and three months later he signed with Tampa Bay, then known as the Devil Rays, where he became a popular and productive member of the rapidly improving franchise. He was released by Tampa Bay after the 2010 season in which his batting average fell to a career low .196. But the Chicago Cubs signed him for 2011 and he responded with 28 home runs, his fifth straight season with 25 or more four-baggers. Nevertheless, he did not fit into the Cubs' future plans and he was a free agent once again.
Carlos returned to Tampa Bay in 2012, but the old magic was missing. Despite playing in a career-high 160 games, he could manage only 19 home runs and a .197 batting average for the Rays. He also struck out 182 times, the most in any single season of his long career. The Rays said goodbye once again and on Dec. 17, he signed as a free agent with the Astros. Released by Houston on July 31, he was out of a job for more than a month before joining the Royals on Aug. 27.
Pena still is considered an above-average defensive first baseman, one reason the Angels feel he could be an adequate backup to Pujols, especially since Albert is sometimes "rested" by being inserted as the DH. They also are gambling that despite being limited to just 27 home runs over the last two seasons, Pena's bat still has enough pop left in it to make him a threat as a DH or pinch-hitter.
In November, 2003, Pena was playing winter ball in the Dominican could not attend the Cape League's annual Hall of Fame event on Nov. 8 at the Chatham Bars Inn. But the former Harwich and Wareham star was well represented by his mother, father, brother and sister. He sent an acceptance note that his sister, Femaris, read. In it, he called the 1997 season "the most unforgettable summer of my life. I understand summers that perfect only come around once in a lifetime … Because of that summer in the Cape League, I am a major league ballplayer."

-ccbl-