League News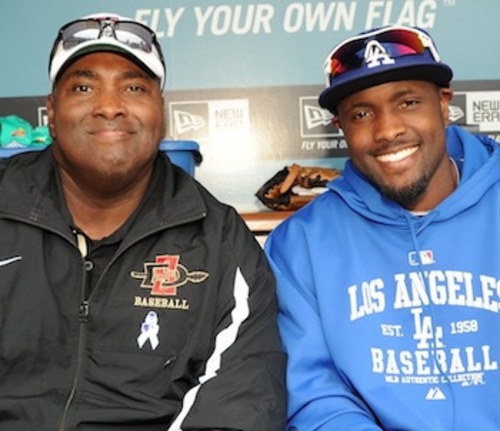 06/17/2014 4:08 AM
Article By: CCBL Public Relations Office
The Cape Cod Baseball League extends its heartfelt condolences to Tony Gwynn Jr. (Brewster, 2002) and his family on the passing Monday of Tony Gwynn Sr., Baseball Hall of Famer and true friend of the game at all levels.
Gwynn succumbed to salivary gland cancer Monday at a hospital in suburban Poway, Calif. He was 54.
Nicknamed "Mr. Padre," Gwynn was on medical leave from his job as head baseball coach at San Diego State, his alma mater and that of his son. Tributes poured in from throughout the baseball world for the man who spent his entire 20-year MLB career with the San Diego Padres.
Said Baseball Commissioner Bud Selig: "For more than 30 years, Tony Gwynn was a source of universal goodwill in the national pastime, and he will be deeply missed by the many people he touched."
Gwynn underwent two operations for cancer in his right cheek between August 2010 and February 2012. Gwynn said he believed the cancer was caused by a lifetime of chewing tobacco.
The man who won eight National League batting championships and accumulated 3,141 lifetime hits visited the Cape in 2002 to see his son play for the Brewster Whitecaps. Tony Jr., who was known as "Anthony" throughout a very successful 44-game season, led his team with a .291 batting average and 48 hits. He collected five doubles and one triple, but couldn't manage to knock one out of the park. He was also successful on 11 of 16 attempted steals.
Over the years, coach Gwynn sent many of his best San Diego State players to the Cape for summer league seasoning. Besides Tony Jr., the list includes current MLB pitchers Aaron Harang (Cotuit, 1998) of the Atlanta Braves and Justin Masterson (Wareham, 2005) of the Cleveland Indians. At least one Aztec is playing in the league this season, Yarmouth-Dennis right-handed pitcher Bubba Derby.
In addition to his son, an outfielder for the Philadelphia Phillies, Tony Gwynn is survived by his wife Alicia and daughter Anicia.