League News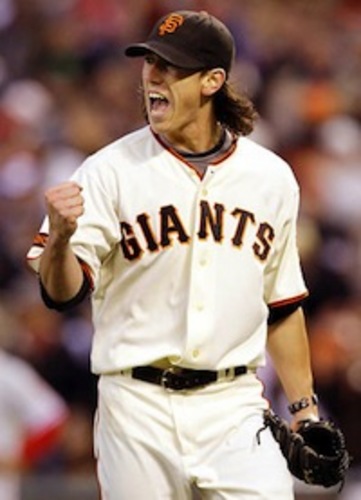 06/26/2014 8:42 AM
Article By:
Tim Lincecum (Harwich, 2005) has done it again.
The San Francisco right-hander came within one base runner of pitching a perfect game Wednesday, firing his second no-hitter against the San Diego Padres in less than a year and leading the Giants to a 4-0 win at AT&T Park.
Only a second-inning walk issued to Chase Headley (Cotuit, 2004) spoiled what would have been a perfect game for Lincecum, who nevertheless recorded the 285th no-hitter in major league history. Headley fell behind in the count 1-2 and a strikeout at that point would have prevented the game's only base runner from reaching, but it was not to be as Headley worked Lincecum for a one-out walk.
Lincecum, who had no-hit the Padres 9-0 last July 13, became just the second pitcher in major league history to pitch no-hitters against the same team. Hall of Famer Addie Joss of Cleveland did it against the Chicago White Sox in 1908, when he threw a perfect game, and again in 1910.
The 30-year-old Lincecum threw 113 pitches, masterfully mixing his big breaking curve and his fast ball and hitting his spots to perfection. After Headley's base on balls, the former Harwich Mariner retired the final 23 batters with methodical precision. He finished with six strikeouts and also enjoyed a productive day at the plate, going 2-for-3 day and scoring two runs.
The two-time Cy Young Award winner and 2006 National League Rookie of the Year was the Giants' first-round pick (10th overall) in the 2006 First-Year Player Draft out of the University of Washington. His no-hitter was the third in the majors this season and all three have been authored by West Coast pitchers – Los Angeles Dodger Clayton Kershaw a week ago and his Dodger teammate Josh Becket earlier in the season.
Only four Cape Cod Baseball League grads have pitched big league no-hitters. Lincecum has the last two, following Phil Humber (Y-D, 2003) of the Chicago White Sox in 2012, Eric Milton (Falmouth, 1995-96) of the Minnesota Twins in 1999; and Scott Erickson (Cotuit, 1989) of the Twins in 1994. Humber faced just 27 batters and threw a perfect game, a 4-0 dazzler against the Seattle Mariners on April 21, 2012.
Lincecum's first no-hitter came July 13, 2013, on the road with few Giants fans on hand to applaud the feat, but Wednesday at AT&T Park his every move in the late innings was cheered by a crowd of 41,500. He got a standing ovation in the eighth when he batted and another when he strolled to the mound to start the ninth.
The crowd's roar intensified as he struck out pinch-hitter Chris Denorfia. Another pinch hitter, Yasmani Grandal (Brewster, 2008), bounced a ball back to Lincecum, who threw to first for the game's 26th out. A routine bouncer to second base by Will Venable completed the gem.
Lincecum stood and watched first baseman Buster Posey (Y-D, 2006-07) take the throw and step on the bag, then slapped his hand into his glove and braced himself for the celebration that followed as he was mobbed by catcher Hector Sanchez and the rest of the Giants.
Only one other Giants pitcher has recorded two no-hitters – the legendary Christy Mathewson for the New York Giants more than 100 years ago. In franchise history, there have been only 12 other no-hitters. Ironically, San Diego is the only franchise in Major League Baseball without a no-hit pitcher in its history.