League News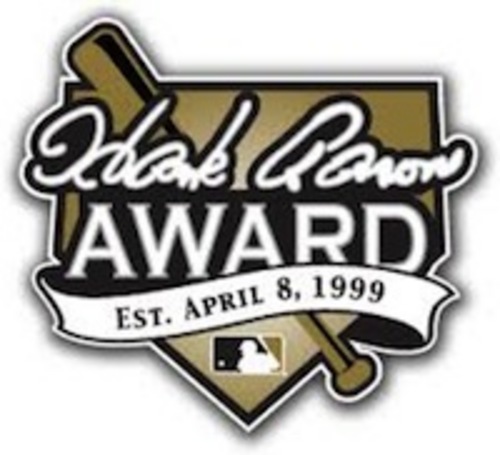 09/30/2014 5:09 PM
Article By: CCBL Public Relations Office
Two former Cape Cod Baseball League stars are among the 15 American League nominees for the 2014 Hank Aaron Award, which "The Hammer" himself will present during the 2014 World Series. There are no Cape League grads on the list of National League nominees for the award, which has been presented annually since 1999 to the outstanding offensive performer in each league.
Third baseman Evan Longoria (Chatham, 2005) of the Tampa Bay Rays and Josh Donaldson (Harwich, 2006) of the Oakland Athetics are in the mix, along with Nelson Cruz (Baltimore), David Ortiz (Boston), Jose Abreau (Chicago), Michael Brantley (Cleveland), Victor Martinez (Detroit, Jose Altuve (Houston), Alex Gordon (Kansas City), Mike Trout (Los Angeles), Trevor Plouffe (Minnesota), Brett Gardner (New York), Robinson Cano (Seattle), Adriam Beltre (Texas) and Jose Bautista (Toronto).
National League candidates are Paul Goldschmidt (Arizona), Justin Upton (Atlanta), Anthony Rizzo (Chicago), Devin Mesoraco (Cincinnati), Justin Morneau (Colorado), Adrian Gonzalez (Los Angeles), Giancarlo Stanton (Miami), Jonathan Lucroy (Milwaukee), Daniel Murphy (New York), Andrew McCutchen (Pittsburgh), Matt Carpenter (St. Louis), Seth Smith (San Diego), Hunter Pence (San Francisco) and Anthony Rendon (Washington).
Longoria played in every game this season, compiling a .253/.320/.404 batting line with 26 doubles, 22 home runs and 91 RBIs. Donaldson batted .255/l342/.456 with 31 doubles, 29 homers and 98 RBIs in 158 games.
"I am honored to have my name on the award given by Major League Baseball to the top offensive performers in the game," Aaron said. "Each of the nominees is talented and deserving, which makes me grateful to have the assistance of my fellow Hall of Famers and the fans to help select the winners."
For the fifth consecutive year, a special panel of Hall of Fame players led by Aaron will join fans in voting for the award, which is officially sanctioned by MLB and has recognized the top offensive threat in each league since it was established.
The panel includes some of the greatest offensive players of all-time – Roberto Alomar, Johnny Bench, Paul Molitor, Eddie Murray, Frank Thomas (Orleans, 1988) and Robin Yount. These Hall of Famers – who combined for 16,956 hits, 8,844 RBIs and 2,109 home runs – were personally selected by Aaron to lend their expertise in selecting the best offensive performer in each league.
The award was introduced in 1999 to honor the 25th anniversary of Aaron breaking Babe Ruth's all-time home run record. At that time, it was the first major award introduced by MLB in more than 25 years.
Fan votes will be counted alongside those of the special panel of Hall of Famers led by Aaron. Voting ends at 11:59 p.m. ET on Sunday, Oct. 5. To cast your vote, click
here
.
Three former Cape Leaguers – Buster Posey (Y-D, 2006-07), Kevin Youkilis (Bourne, 2000) and Todd Helton (Orleans, 1994) – are past winners of the award. The complete list: Miguel Cabrera and Goldschmidt (2013); Cabrera and Posey (2012); Bautista and Matt Kemp (2011); Bautista and Joey Votto (2010); Derek Jeter and Albert Pujols (2009); Aramis Ramirez and Youkilis (2008); Rodriguez and Prince Fielder (2007); Jeter and Ryan Howard (2006); Ortiz and Andruw Jones (2005); Manny Ramirez and Barry Bonds (2004); Rodriguez and Pujols (2003); Rodriguez and Bonds (2001-02); Carlos Delgado and Helton (2000) and Ramirez and Sammy Sosa (1999).