League News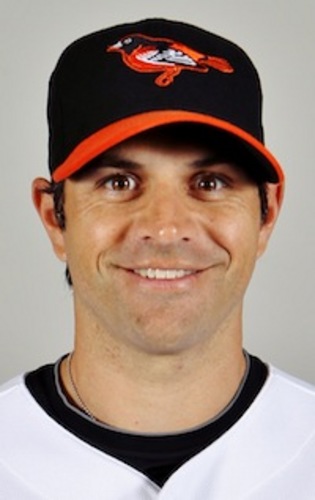 10/20/2014 6:06 PM
Article By: CCBL Public Relations Office
In the summer of 1984, Brian Roberts made his Cape Cod Baseball League debut at age 6 … as a batboy for the Wareham Gatemen.
The skinny kid was less than two years removed from open heart surgery and was under orders to stick close to his dad, Mike Roberts, who at the time was manager of the Gatemen in the summer and head baseball coach at the University of North Carolina the rest of the year.
Brian's heart problem was diagnosed when he was 2 and at age 5 he underwent open heart surgery to repair the atrial septal defect, or ASD – a hole in his heart, in layman's terms.
Fourteen years later, as a member of the then-Chatham A's, the only bats Brian had to worry about were his own. By then, he had grown to a solid, if unimposing, 5-9, 165 pounds and had shown the heart of a champion as the star shortstop for dad Mike's Tar Heels.
On Friday, the two-time American League All-Star second baseman announced his retirement from baseball after 14 MLB seasons, all but one with the Baltimore Orioles. He is the only player to have achieved All-Star status in the major leagues after starting out as a Cape League batboy and later playing in the CCBL.
Roberts, who turned 37 Oct. 9, had been released by the New York Yankees in August after hitting .237 in 91 games. He said that as a free agent he turned down offers from two "very good teams" that were interested in signing him because it had become clear he could no longer perform at the level he demanded of himself.
"It was just kind of my time," he told Dan Connolly of the Baltimore Sun. "There were numerous reasons that I felt like I couldn't play at a level that I was accustomed to and wanted to play at if I continued ... I always said that I wasn't going to be the guy that tried to hang on as long as I could."
Roberts finishes with a MLB batting line of .276/.347/.409 with 97 home runs, 542 RBIs and 285 stolen bases. The last third of his career was marred by injuries, as he averaged just 57 games per season from 2010-14.
Mike Roberts, who just concluded his 11th season as manager of the Cotuit Kettleers, winning two of the last five Cape League championships (2010 and 2013), always believed in Brian's abilities. Mike was one of the few college coaches who thought a player of Brian's size could succeed in Division I baseball, let alone go on to a pro career. So in 1997, he recruited his son to play at UNC.
Brian immediately justified his dad's confidence by batting .427 with eight home runs and 44 RBIs while setting school records for hits (102) and stolen bases (47). The switch-hitting shortstop's efforts earned him Division I Freshman of the Year honors. As a sophomore, he stole 63 bases and was named Atlantic Coast Conference Player of the Year.
After UNC fired Mike as head coach, Brian transferred to the University of South Carolina, where in 1999 he led the nation with 67 steals, batted .353 and hit 12 home runs. Baseball America rated him as the top defensive player in college baseball.
By then, despite his diminutive stature, Brian was attracting plenty of attention from big league scouts, including Tony DeMacio, Baltimore's scouting director, and that June the Orioles selected him in the supplemental first round (50th overall) in the MLB First-Year Player Draft.
On June 14, 2001, he made his major league debut and collected his first MLB hit against the New York Mets. In 2005, Brian had a breakout season, batting .314 with 18 home runs and earning a nod as the starting second baseman in his first All-Star game in Detroit. His second All-Star appearance came two years later in San Francisco.
Roberts told Connolly: "If you knew me from the time I was in high school I certainly wouldn't say I was the most overconfident person in the world in my baseball abilities. I battled that, off and on, my whole career, whether I was going to be good enough. I don't know if that came from the expectations of being the kid of a baseball coach at a prominent school or being the smallest guy on the field, but I definitely thank God for the opportunity that he gave me."
By the mid-2000s, Roberts was clearly the most popular Orioles player. Every other fan at Camden Yards seemed to be wearing his No. 1 jersey. But his public image was tarnished in 2007 when he was one of 19 current or former Orioles mentioned in Major League Baseball's Mitchell Report on performance-enhancing drug use in the sport. He later said he had used steroids once in 2003, but didn't like the effect and never tried it again.
That controversy surrounding Roberts didn't stop the Orioles from signing him to a four-year, $40 million deal before the 2010 season based on what he had accomplished on the field – he batted .314 in 2005, stole 50 bases in 2007 and hit a franchise-record 56 doubles in 2009.
But an array of injuries limited him to just 192 games in the four seasons following that extension. Overall, he hit .278 with a .349 on-base percentage in 1,327 games with the Orioles in 13 seasons. He is second all-time on the franchise's stolen base list (278) and is in the top 10 in hits (1,452), runs scored (810) and doubles (351). With all his individual successes, though, he never got to play in the postseason.
What's next for Brian Roberts?
He says he has no immediate plans other than spending more time with his wife Diana and 14-month-old son, Jax Isaac. "I know I'll want to do something eventually in some way, shape or form, but I have no idea really what that is right now. And I don't think I am ready to commit to anything at this point, anyway."
If he ends up returning to baseball in some capacity, possibly as a broadcaster, he said his first choice would be with the Orioles.
"I don't see why it wouldn't be. I can't speak obviously for the other side, but if that time comes or when that time comes, I'm sure that will be something that would be explored," he said. "Having an opportunity to spend 13 years in an organization, in a community, establishing roots, hopefully having an impact on people's lives … that is what I was always hoping to try and do. And I hope, in a small way, I was able to accomplish that."