League News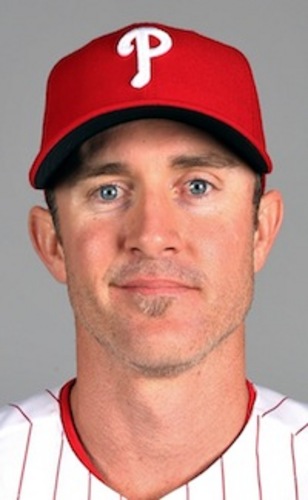 10/25/2014 2:44 PM
Article By: CCBL Public Relations Office
Chase Utley (Brewster, 1998; Cotuit, 1999) has been a Major League Baseball player for 12 years, all with the Philadelphia Phillies. He's been named to six National League All-Star teams, collected four Silver Slugger awards as the NL's top offensive second baseman and has long been considered one of the best middle infielders in the game.
But the 35-year-old veteran has never won a Gold Glove.
A former first-round draft choice of the Phillies (15th overall in 2000), Utley has an opportunity to correct that oversight now that he's been named a finalist in the 2014 competition sponsored by Rawlings Sports to honor the best defensive players at each position in each major league.
Utley, 35, and six other Cape Cod Baseball League grads among the finalists are all hopeful of winning their first Gold Glove. He and DJ LeMahieu (Harwich, 2008) of the Colorado Rockies are the second base candidates, the only Cape League grads in contention in the National League.
The five American League finalists are Houston Astros pitcher Dallas Keuchel (Wareham 2007-08), catcher Alex Avila (Harwich, 2007) of the Detroit Tigers, third basemen Josh Donaldson (Harwich, 2006) of the Oakland Athletics and Kyle Seager (Chatham, 2007-08) of the Seattle Mariners, plus Boston Red Sox center fielder Jackie Bradley Jr. (Hyannis, 2009).
Winners will be announced on Nov. 4.
GOLD GLOVE NOTES: No ex-Cape Leaguer won a Gold Glove last season, but three did so in 2012 – Baltimore Orioles catcher and CCBL Hall of Famer Matt Wieters (Orleans, 2006; class of 2013); San Diego third baseman Chase Headley (Cotuit, 2004); and New York Yankees first baseman Mark Teixeira (Orleans, 1999), who has won five in all. ... Teixeira's total is one shy of the CCBL record of six shared by current Chicago White Sox manager Robin Ventura (Hyannis, 1987) and San Francisco Giants front office executive J.T. Snow (Orleans, 1988). Snow won as a first baseman in 1995, 1996 and from 1997-2000. … Darin Erstad (Falmouth, 1993-94) is the only Cape grad to win Gold Gloves at two positions. Erstad first struck gold as an outfielder in 1993 and '94, and repeated as a first baseman in 2004. … The very first winner from the Cape League was Boston catcher Carlton Fisk (Orleans, 1966) in 1972 … Other Gold Glove catchers from the CCBL are Mike Lavalliere (Y-D, 1981); Jason Varitek (Hyannis, 1991, 1993); Thurman Munson (Chatham, 1967), with three, and St. Louis Cardinals skipper Mike Matheny (Cotuit, 1990), who owns four. ... No shortstop from the Cape has won a Gold Glove and only one pitcher has done so – Ron Darling (Cotuit, 1980), back in 1989 as a New York Met.