League News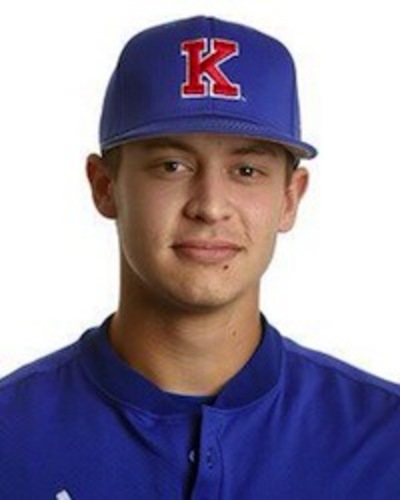 07/25/2015 4:21 PM
Article By:
Falmouth catcher and outfielder Michael Tinsley (Kansas) was on fire earlier this month when he batted .313 with two home runs and three runs batted in during a four-game winning streak by the Commodores.
He is currently battling a thumb injury and has been sidelined since July 12 but is hoping to be back in action soon for the Cape Cod Baseball League.
"It is an extreme honor," Tinsley said. "Especially in a league like this, to be named player of the week is probably one of the best things you can get as a player until the end of the season. So I am beyond belief honored in that."
Tinsley also batted leadoff for Falmouth during that streak, something he's not that accustomed to but was successful nonetheless. As a player for the Kansas Jayhawks, Tinsley was slotted in the heart of the order due to his slugging percentage, but he may have found a home as the Commodores' leadoff man.
"It's a different take on baseball. I mean I haven't led off since high school, and in college I was batting three- and four-hole the entire year. So getting leadoff is just a new perspective. You get to set the tone of the game really early. And lately that has been working out for me just fine so it's a lot of fun. I love it."
This past year as a freshman at Kansas, Tinsley batted .324 with 16 RBIs and a .535 slugging percentage. He came to the Cape League looking to continue that success, and his biggest challenge thus far has been acclimating to the environment of the league.
"What I learned at Kansas was how to keep a starting role. I was relied on a lot just because we had a young staff and everyone was looking for someone to lean on. Being able to produce like I did it was a great way for the guys to find someone to lean on and especially when you're trying to get the new pitchers to settle down and find their own roles. I learned a lot just basically getting thrown on the fire. I had to mature quickly and it was for the best."
If a player is successful at college, it doesn't necessarily mean it will translate to success in the Cape League. Facing a Friday or Saturday night collegiate starter every day can be exhausting, and adapting to the wooden bat is also a challenge. Playing under different coaches can be potentially difficult, but Tinsley has found success in Falmouth and a lot of that he attributes to field manager Jeff Trundy.
"I've learned a lot from Trundy," Tinsley said. "His style is very laid-back and you kind of figure it out on your own but at the same time he's there to help you out, and same with everyone on the coaching staff. I was talking with Trundy a few days ago and he was talking about keeping the same routine. Like even when you're in a slump just keep the same routine and don't change whatever worked for you in the past, because in baseball when you change stuff that you don't need to change that's when you get thrown into a funk. He's really big on that and that's one of the biggest things I'm taking out of here."
Trundy spoke of the success Tinsley has had in the leadoff spot, and he is hoping to have his starter back soon.
"It's worked out very well. I mean we were playing very well with him in the leadoff position but he's got a little bit of a hand thing going on," Trundy said. "We want to rest him and make sure that it's not something that is going to get worse. But I think he's been key to us in that spot. He has good at-bat after good at-bat. We really like him in that spot so hopefully he's going to be back and be well soon."
In Trundy's mind, Tinsley is one of the key players for this 2015 Commodores team. "No question. He's got a great approach and I think he's a good teammate. I don't see any selfishness from him whatsoever. I think he really understands what he needs to do as a player and also what he needs to do to be a contributor of the team, and I think he puts that first and foremost, and that's always great to have that in this kind of situation."