League News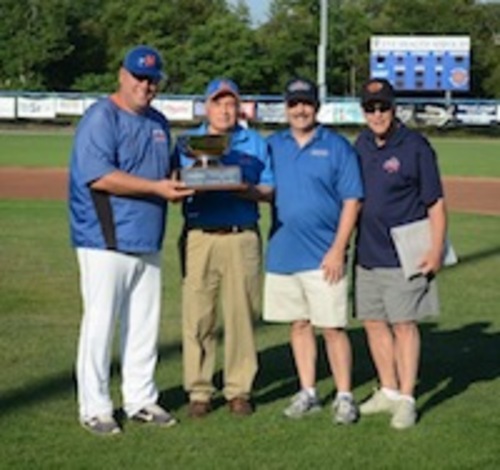 08/04/2015 7:53 PM
Article By:
The Hyannis Harbor Hawks have sat atop the West since the first day of the 2015 Cape Cod Baseball League season, so it seems fitting they finished the regular season 23-18 to capture their third West title in five years and cruised to a best-of-three sweep of the Cotuit Kettleers in the West series opener, which marks the organization's first playoff series win in 15 years.
"It's really neat for the organization," field manager Chad Gassman said. "It's just a testament to the commitment of being the best organization they can be. They have put trust in me (after giving) a young coach the opportunity seven years ago. (They have been) patient with ups and downs and it's just nice that the patience has been rewarded."
Defensively, the Harbor Hawks' pitching has been impeccable. Dakota Hudson (Mississippi St.) finished the regular season with a league-best 41 strikeouts. He also sits in the No. 3 spot for ERA at 1.69. Not far behind in the strikeout category is Devin Smeltzer (Florida Gulf Coast), who has 33 K's to go along with a 4-3 regular-season record. Smeltzer, who is entering his sophomore year, threw the Cape League's first no-hitter since 2010 when the Hawks defeated the Harwich Mariners on June 20 at Whitehouse Field.
The Harbor Hawks have consistently produced at the plate. Jacob Noll, a teammate of Smeltzer's at Florida Gulf Coast, finished fourth in batting with a .326 average this summer. Hyannis also finished with three of the league's top five RBI producers. Noll ended the regular season with 21 RBIs, Blake Tiberi (Louisville) with 20 and Austin Hays (Jacksonville) with 19.
"You can't be too high or too low," Gassman said regarding the team's success thus far. "It's such a tough league you just have to stay steady. You have to be able to crack jokes and be lose with them but also keep them accountable."
Hyannis is off to an auspicious start in the postseason and advances to the West Division championship series. Despite Hyannis coming up short during its two more recent playoff runs, Gassman believes this time around will be different.
"Those past two playoffs we have played hard," he said. "We've just had some bad luck with guys leaving early, getting hurt. Right now we seem to have most of our team together and we have a good chance to put it together."