League News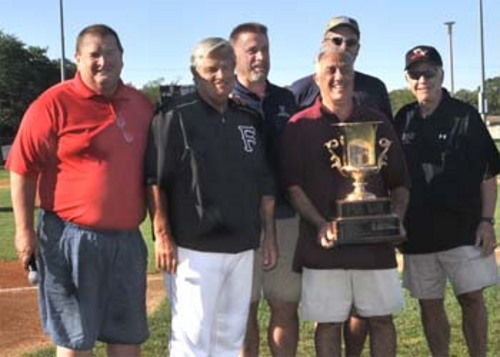 08/07/2015 9:33 PM
Article By: CCBL Public Relations Office
It's been a difficult summer for the Falmouth Commodores. The team finished the Cape Cod Baseball League's regular season with a league-low total of 16 wins, missed qualifying for the playoffs by a single point and saw the league's longest title drought extended to an agonizing 35 years.
Falmouth entered the last day of the schedule still alive in the race for the final West Division playoff berth, but a heartbreaking 6-5, 10-inning loss to Bourne ended any chance at August glory for a team that had played in the Mycock Trophy finals just a year before.
All of which makes the franchise's selection as 2015 winner of the Commissioner's Cup that much sweeter for everyone connected with the Commodores.
Possibly the most prestigious of all CCBL postseason awards, the Commissioner's Cup recognizes organizational excellence of a franchise that consistently demonstrates truly exceptional on- and off-field performance. Wins and losses are less of a factor than the positive experiences provided for fans, players and opponents over the course of a full season and the professionalism displayed in all aspects of franchise operation.
In announcing this year's winner, Cape League Commissioner Paul Galop had nothing but praise for the Falmouth franchise, especially its leadership.
"The deputy commissioners carefully reviewed CCBL criteria for this award and discussed it in great detail. It became obvious in very short order that Falmouth would be this year's worthy winner, and when the vote was taken it was unanimous," the commissioner said. "All agreed that dealing with General Manager Eric Zmuda and President Steve Kostas, as well as Manager Jeff Trundy and his staff and players, was an extremely positive experience. All involved exhibited true professionalism on and off the field.
"This is an award the entire Falmouth franchise should be very proud of, as they all worked very hard to earn it. I can state unequivocally that working with the Falmouth franchise on and off the field was a real pleasure. There simply are not enough superlatives to describe the Commodores' operation in 2015. All of the commissioners who voted on this award were most impressed throughout the season from beginning to end.
"Great job, Falmouth, and congratulations," the commissioner concluded
This is Falmouth's second Commissioner's Cup. The Commodores shared the inaugural award in 2004 with Wareham.