League News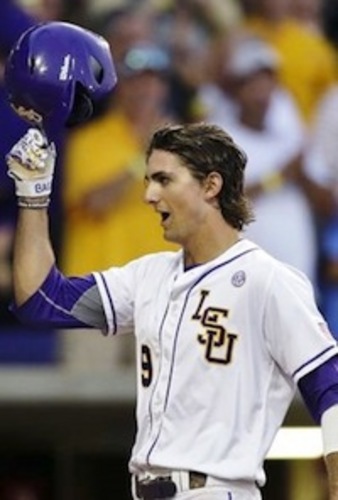 08/11/2015 5:54 PM
Article By: CCBL Public Relations Office
Nine former Cape Leaguers will be among the 22 players selected in Major League Baseball's 2015 First-Year Player Draft who will take part in the New York-Penn League All-Star game on Tuesday, Aug. 18, at Leidos Field at Ripken Stadium in Aberdeen, Md.
Two players each from Bourne, Chatham and Harwich were chosen for the game, joined by single picks from Cotuit, Orleans and Yarmouth-Dennis.
First baseman Brendon Hayden (Harwich, 2013), second baseman Josh Tobias (Y-D, 2012) and designated hitter Mark Laird (Bourne, 2013-14), all drafted by the Philadelphia Phillies, lead a league-high contingent of eight players from the Pinckney Division-leading Williamsport Crosscutters into the game.
Also named to the South All-Stars were Vincent Siena (Bourne, 2013), another second baseman and a draft choice of the New York Mets playing for the Brooklyn Cyclones, and outfielder Ty Moore (Chatham, 2014), assigned to the West Virginia Black Bears by the Pittsburgh Pirates.
Second baseman Jake Cronenworth (Orleans, 2014) and outfielder Joe McCarthy (Harwich, 2014), are Tampa Bay prospects with the Hudson Valley Renegades. They're joined on the North All-Star squad by left-handed pitcher Alex Winkleman (Cotuit, 2015) of the Tri-City ValleyCats (Houston Astros) and catcher Nick Collins (Chatham, 2014) of the Vermont Lake Monsters (Oakland A's).
The New York-Penn League, a short-season Class A league originally called the PONY League (Pennsylvania-Ontario-New York), is celebrating its 75th anniversary, a tenure that makes it the longest continuously operating Class A league in minor league baseball. It currently consists of 14 teams separated into three divisions, with franchises located not only in New York and Pennsylvania, but in Massachusetts, Vermont, Connecticut, Ohio, West Virginia and Maryland as well.
Closest New York-Penn League franchise to Cape Cod is the Boston Red Sox entry, the Lowell Spinners, whose manager, Joe Oliver, and coaches, Luke Morton, Lance Carter and Iggy Suarez, will be calling the shots in the North All-Stars' dugout. The South squad will be led by manager Luis Pujols of the host Aberdeen IronBirds and his coaches, Justin Lord, Shawn McGill and Calvin Pickering.