League News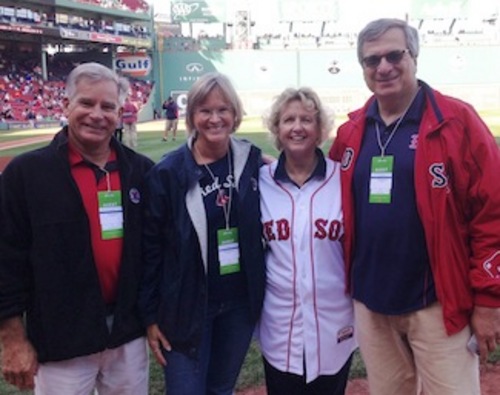 10/01/2015 4:11 AM
Article By:
The honors continued to pile up last week for retiring Cape Cod Baseball League president Judy Walden Scarafile.
After 24 years as the top executive of the nation's No. 1 summer collegiate league, she announced shortly after the 2015 season ended that she would not seek re-election. Her successor will be named when the league's Board of Directors gathers later this month.
This past Saturday, wearing a Red Sox jersey with her name and No. 15 (for the year of her retirement) on the back, she threw out the ceremonial first pitch at Fenway Park prior to the Baltimore-Boston game. Her "catcher" was Sox lefty Rich Hill (Chatham, 2000-01), who, the night before, had pitched his third straight gem, a 7-0, two-hit, complete-game shutout of the Orioles.
Her afternoon included a video interview, a chat on the Red Sox Radio Network with Joe Castiglione, an off-air reunion with CCBL Hall of Fame member Lou Merloni (Boune, 1991; Cotuit, 1992; Class of 2010) and an opportunity to speak with Hill and other Cape League grads from the two teams, including Orioles manager and Cape League Hall of Famer Buck Showalter (Class of 2002), who dropped a verbal bombshell.
After spotting Judy, Showalter greeted her with, "Hey, you're retiring." The two talked for a few minutes, joined by Judy's husband Peter and her guests for the day, the Wareham Gatemen's first couple, Tom and Sheri Gay. Just before the gabfest broke up, Showalter told Scarafile, "One thing I still want to do is coach in the Cape League."
Judy's jaw dropped. She looked over at Peter and the Gays and said, "Remember that."
Showalter, who made the same statement during his Hall of Fame acceptance speech, insists that he means it. But his primary goal at present is taking his Orioles to, and winning, a World Series.
So, sometime in the future, expect to see the three-time AL Manager of the Year (1994, 2004, 2014) putting a bunch of college kids through their paces on a Cape League diamond. Perhaps it will be in Hyannis, where in 1976, as an outfielder from Mississippi State called Nat, was named to the all-star team, won the batting title (.434) and won league MVP honors.
Here's how Judy remembers her first-pitch assignment:
"A young lady named Lauren, dressed in a Red Sox uniform, handed me the ball and I went into my windup, had decent follow-through, but the ball fell short and landed a foot in front of the plate. Rich and I then greeted each other, he handed me the ball and we went back and forth with the congratulations. I just wanted to talk about his incredible comeback this season, especially his two-hitter on Friday night. He is a very humble man and very gracious.
"As we walked off the field, there were all kinds of congrats and a sigh from me. Ben Crockett (Wareham 2000-2001), a good friend of the Gays, greeted us and we did a lot of photos. It was a bit emotional as I realized this was another wonderful goodbye as I head down that road to retirement from the CCBL. What a thrill this entire afternoon has been.
"Then we headed to the EMC Club where I found JoAnne Bresciani, who had said to me earlier in the day that she 'wouldn't miss this game.' We had a great visit.
"We all headed out to the seats on the EMC deck and we watched a terrific game for the Sox as they won 8-0. Not such a good game for Buck ... maybe he was thinking of some days in the Cape League.
"The Red Sox had rolled out the red carpet for us and we were enormously appreciative. It was a memorable sendoff and gave me a chance to see so many friends and say thank you for such a great partnership the Cape League has with the Sox."
Four days earlier, Judy attended the annual BoSox Club awards luncheon in Dedham, expecting to be a spectator but winding up as one of the honored guests. After watching presentations to Larry Lucchino and Brock Holt and a number of 2015 championship teams, including the Yarmouth-Dennis Red Sox, she was surprised to be called to the dais and receive a beautiful plaque that recognized not only her 24 years as CCBL president but her 45-year career as a Cape League volunteer.
It was an extremely emotional moment for Judy, who held the plaque high and, her voice choking, said, "Bresh, this one's for you." She was referring, of course, to her longtime friend and mentor Dick Bresciani, who was responsible for originally bringing her to the Cape League as an official scorer in 1970.
Bresciani lost a long battle with leukemia and died at Massachusetts General Hospital on Nov. 29, 2014, at age 76. Earlier this season, the Red Sox renamed the Fenway Park press box as "The Bresh Box," in his honor. Bresh worked in various public relations roles since joining the Red Sox in 1972, when he was hired as an assistant by then Sox PR chief Bill Crowley. At the time of his death, he was the team historian and was responsible for Red Sox publications.
No story about Judy Scarafile's recent travels would be complete without mentioning three days in early September
–
Sept. 3-4-5.
On Thursday, Sept. 3, she and Peter were in Pawtucket, R.I., for a PawSox game. The next night, they were treated as VIPs at Yankee Stadium, meeting, greeting and being photographed with players from the Yankees and Tampa Bay Rays with ties to the Cape League. Then, on Saturday, they traveled to Fishkill, N.Y., for a New York-Penn League game between the Hudson Valley Renegades and the Aberdeen IronBirds, prior to which their longtime friend, Pittsburg Pirates scout John Kosciak, was inducted into the Professional Baseball Scouts Hall of Fame.
The Rays-Yankees game, appropriately saved by a Cape League Hall of Famer, New York's closer, Andrew Miller (Chatham, 2004-05; Class of 2012), was especially significant for Judy, who was thrown out of the Yankee Stadium press box in 1970 when she attempted to cover a Cape League-Atlantic Collegiate League All-Star game.
Aware of the 45-year-old slight to the woman who would later lead the nation's most prestigious summer collegiate baseball league, the Yankees graciously provided press box seats for the Scarafiles.
What's next on Judy's farewell tour? Time will tell.