League News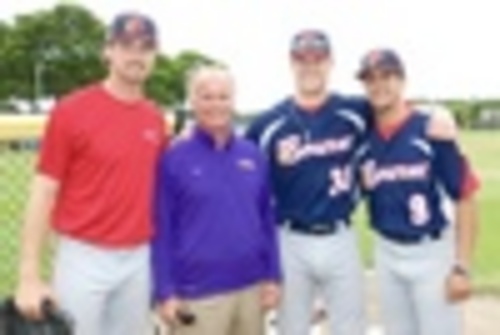 07/10/2016 5:29 AM
Article By:
Post-fourth of July weekend, it's the calm after the storm, and what better time to make a trip to Cape Cod? That is exactly what Louisiana State University (LSU) head coach, Paul Mainieri, was thinking. This past weekend he made the trip to check out his players who are playing in the Cape Cod Baseball League.

LSU has an impressive amount of players on the Cape this summer, which is not anything out of the ordinary for the nationally seeded SEC team of the last five consecutive years. Three Bourne Braves players, Brennan Breaux ('19), Greg Deichmann ('18), and Doug Norman ('18) got a chance to catch up with their college coach before their game against the YD Red Sox on July 9. I also was able to take the opportunity to get his perspective on this prestigious league.

When asked if this was his first trip to the Cape, Coach Mainieri explained, "I actually came two years ago to the Cape when we had five of our players named All-Stars, so I came for the All-Star game. I thought that was pretty unusual that five players from one college made the team, so I came up to support the boys." He adds, chuckling, "but this weekend I came up because I had nothing else to do. And because I wanted to come up and see the guys.
Leading the league with an impressive 12 players on Cape this summer, Vanderbilt follows at 11, with Mississippi State and Florida tied at 10; Mainieri has had a fairly packed weekend. "Last night I saw the game between Brewster and Chatham in Brewster, Jordan Romero was the catcher for Chatham and then the Jordan twins, Beau and Bryce, were playing for Brewster. Caleb Gilbert wasn't scheduled to pitch until today for Chatham so I didn't get to see him play, but I got to visit with him." Adding "and then today, of course, I came over here to see Greg Deichmann, Brennan Breaux, and Doug Norman; but I'm going to leave after about an hour and go over and catch a game at 6:30 with Wareham against Harwich; Antoine Duplantis plays and so does Cole Freeman." Reiterating, "So yeah, I just wanted to come up and see the boys and let them know that I'm supporting them here."

Breaux, Deichmann, and Norman, the three Braves players of LSU this summer, were more than appreciative to see their coach at last night's game. "It means a lot that he came up; to see a familiar face – I'm just happy to see him, and for him to make the trip up here to support us means a lot to me," says Norman. Breaux comments saying, "Coach is a great guy. He is always willing to talk to you and he's always willing to hear what you have to say, it's a great relationship that he has with us all. And for him to come to Cape Cod means a lot, it just shows how much he really does care about his players and is interested in how they do, not just at school." Deichmann adds, "Its great having him come up. It means so much and shows how invested he is." He goes on to say, "his heart is LSU."

His heart may be LSU, but he also holds a spot in it for the Cape League. "I love the Cape Cod league, I think it's one of the best things going in all of college baseball." He continues to say, "I see a lot of improvements when they return from the Cape, you know, they're playing against some of the very best players in the country and so when you're exposed to that caliber baseball and competition, it forces you to raise your level as well as the level of your game. When players come back to LSU after playing in the Cape League, they are just so much more confident and so much more worldly. They leave as young men and they come back as really grown up adults, and I think that really helps their confidence and it carries over into the spring for us."

With mention of the spring season, Mainieri explains, "our goal at LSU is always to get to Omaha, and play for the National Championship. That's just the standard at LSU." Norman, on the same page as his coach, says, "I feel like we have a pretty tight-knit group at LSU, with all the coaches and players, and I feel like we have a really good chance to get back to Omaha next year and be even stronger."

But first, before Omaha, Norman nods his head to the hope that the Braves make it to the playoffs this summer, as LSU head Coach Mainieri wishes his players good luck on the remainder of the season.