League News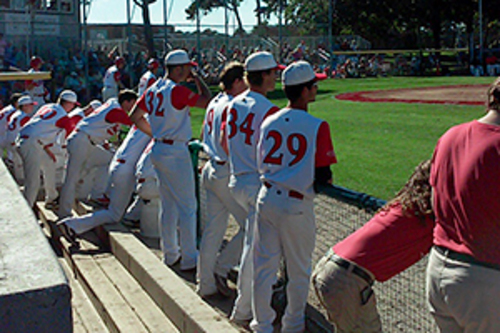 08/05/2016 6:58 PM
Article By:
It was a thrilling night of baseball in the East Division, as the Yarmouth-Dennis Red Sox and Chatham Anglers picked up victories on the first day of the Cape Cod Baseball League postseason.
On a picturesque Cape Cod evening, the No. 2 Red Sox defeated the third-seeded Orleans Firebirds 4-2. The first game of the 2016 CCBL playoffs was hosted by Y-D at Red Wilson Field.
Y-D was first on the scoreboard, scoring 2 runs in the bottom of the first inning. Y-D's starting pitcher, Oliver Jaskie, tossed three scoreless innings, while Riley Adams drove in the first run for the Firebirds in the fourth inning. Y-D's Kevin Smith hit a towering home run in the third inning continuing his excellence at the plate.
In Harwich, No. 4 Chatham's Simon Mathews was the star of the show, striking out 11 Harwich Mariners over eight shutout innings against the East's top seed.
The Anglers got on the board early, taking advantage of a walk, an error and a passed ball on strike three to take a 1-0 lead in the first inning. Chatham extended its lead to 2-0 in the fifth inning, when Jake Palomaki sent an RBI single into the gap in left-center field to score John Aiello. The Angler lead was pushed to three runs in the eighth inning, when a Gunnar Troutwein singled home Mason Koppens to give the game a score of 3-0.
The Mariners made it interesting in the ninth inning, as back-to-back doubles by Joe Dunand and Pavin Smith made it a 3-1 game with no outs. A two-out walk gave the Mariners runners at the corners and a chance to tie the game, but a fly-out to left field ended the contest.
"[Harwich] has the best lineup and pitching staff that I think there is in the Cape this year and it was really important for us to get out to a 1-0 [series] lead," said Mathews. "I pitched against these guys last week and they knocked me around a little bit. I'd like to think I learned from that; I was throwing all four of my pitches for strikes, keeping the ball down and getting ahead and sometimes baseball just works out."
Also contributing to this story was Travis Foster, Cape League Intern.